Rand Paul Fights for Gun Owners, as Senate Confirms William Barr
Written by Erich Pratt
Published: 14 February 2019
Senator Rand Paul Stands for Gun Owners
Take Action below to send a pre-written letter thanking Sen. Rand Paul for being the single Republican senator to stand up for the Second Amendment and oppose William Barr's confirmation.
Barr Retreats, Partially, on Gun Confiscation Orders
The U.S. Senate narrowly voted today, 54-45, to confirm William Barr as Attorney General.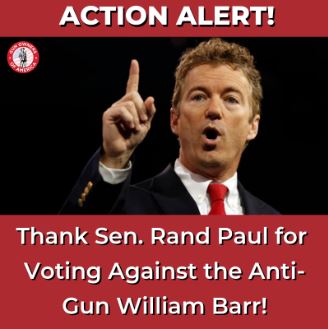 Most Democrats voted against him, primarily because he was a Trump nominee.
And similarly, every Republican except for one voted for Barr — primarily for the same reason.  GOP Senators didn't want to buck the President.
Second Amendment champion Rand Paul from Kentucky was the ONLY Republican to vote against Barr. And by doing so, Paul demonstrated his unwavering commitment to the U.S. Constitution.
Barr backtracks on Red Flag Gun Grabs
Throughout the confirmation process, GOA worked with a small cadre of Senators who were able to get Barr to backtrack (somewhat) from his stated intention of pushing Gun Confiscation Orders as his chief gun priority. 
What Sen. Paul and others were able to achieve was truly a result of your activism in pounding the Senate.
Through a series of action alerts, GOA and its members prompted several pro-gun Senators to confront William Barr over his support for gun control.
And Senate sources confirm that Barr was well aware of the loud voice that GOA members have on Capitol Hill.
So what ground did Barr concede?  
Well, he repeatedly told pro-gun senators that "front-end due process" would be necessary for any Gun Confiscation Orders that he would push — a position that was an apparent retreat from his earlier stance.
What does "front-end due process" mean?
For starters, this would certainly mean that police could not get a "secret order" to raid a gun owner's house and confiscate his guns — without a hearing where he was able to be present, hire a lawyer, and participate. 
Hence, there would be no ex parte secret court proceedings, resulting in raids in the middle of the night.
This would mean that none of the 14 states which currently have Gun Confiscation Orders would have acceptable laws. 
This would mean that S. 7 — the Senate gun confiscation bill — would not be acceptable. 
And this would mean that none of the bills which have been introduced in 36 other states would be acceptable.
Now, there are a LOT of other constitutional and substantive problems with Gun Confiscation Orders, which you can read about here. 
And GOA will continue to oppose Red Flag Gun Grabs at the national and state levels, whether through the various legislatures, administrations or courts. 
GOA will continue tracking these bills and mobilizing activists in opposition to them.
Anyway, you can see how your Senators voted on Barr by clicking here.  
And you can read an op-ed from our legislative counsel to get a detailed account of his anti-gun views.
In Liberty,
Erich Pratt
Executive Director
Follow me on Twitter: @erichmpratt
P.S. Please take action above and thank Senator Rand Paul for having the courage to stand up for the Second Amendment and oppose William Barr's confirmation. And to renew your GOA membership or to join for the first time, please click here.
Featured GOA News & Updates