Did you hear what John Kasich said over the weekend?
Written by admin
Published: 21 March 2016
Kasich Says He'd Consider Nominating the Anti-Gun Garland to Supreme Court
"The Ohio governor even suggested he'd consider naming Garland himself if he wins the presidency …" CBS News, March 19, 2016
---
Not a GOA member yet?  You can join Gun Owners of America today for only $20!
---
Kasich Supports Obama's Pick, While Ted Cruz Opposes Him
Many people were shocked when they heard the news.
Presidential hopeful John Kasich said over the weekend that, if elected president, he'd consider nominating Merrick Garland to the Supreme Court.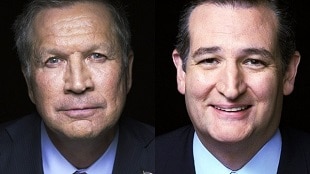 This would be the very same Merrick Garland who President Obama nominated last week — the one who voted against the Parker (aka, Heller) case in 2007 and who voted to allow the Clinton administration to retain gun owners' names in 2000.
This is the same Garland who is being almost universally opposed by Republicans in the Senate right now.
But Kasich says he would consider Garland for the Supreme Court.
According to CBS News on Saturday:
The Ohio governor even suggested he'd consider naming Garland himself if he wins the presidency, noting the praise the nominee has received from conservatives in the past.
"As someone who's talked about unity, would you take a look at Mr. Garland…if you were elected president?" host John Dickerson asked Kasich.
"Well, you know, he received you know overwhelming support, I think even from Senator [Orrin] Hatch, so of course we'd think about it," Kasich replied.
One should note that even Senator Hatch — who was referenced by John Kasich — has stated that the Senate should hold no hearings on the President's pick.
Contrast Kasich's position to that of Senator Ted Cruz, who has taken an unequivocal position against Garland:
Merrick Garland is exactly the type of Supreme Court nominee you get when you make deals in Washington D.C. A so-called "moderate" Democratic nominee is precisely the kind of deal that Donald Trump has told us he would make — someone who would rule along with other liberals on the bench like Justices Ginsburg and Sotomayor. 
Make no mistake, if Garland were confirmed, he would side predictably with President Obama on critical issues such as undermining the Second Amendment….
We cannot afford to lose the Supreme Court for generations to come by nominating or confirming someone that a dealmaker like Donald Trump would support. Washington dealmakers cannot be trusted with such crucial lifetime appointments.
Cruz is the best candidate for President who has the knowledge and background to appoint Judges, especially to the United States Supreme Court, and who will uphold the Constitution and protect our nation from the radical agenda of the left.
Ted Cruz is THE CONSTITUTIONAL CONSERVATIVE in the presidential primary.  Rush Limbaugh has said that, "If conservatism is your bag, if conservatism is the dominating factor in how you vote, there is no other choice for you in this campaign than Ted Cruz."
While Rush's statement is true, you could also replace his use of the word "conservatism" with the words "gun rights" — and his statement would be just as true.  
Cruz is THE ONLY candidate in the race who has not waffled on issues that are important to Second Amendment advocates.
I urge you to support Ted Cruz in the primary tomorrow.
Ted Cruz is our best hope of saving America from the hard-left anti-gunners trying to destroy our nation. And we are Ted Cruz's best hope for victory. 
Sincerely,
Tim Macy
Chairman
Gun Owners of America
Gun Owners of America.
Not authorized by any candidate or candidate's committee.