[Take Action] Stop Banks from Discriminating Against the 2A!
Written by Gun Owners of America
Published: 03 May 2018
Taxpayer-subsidized Banks Shouldn't be able to Destroy the Second Amendment

 Click on the Take Action button to contact your representative. Tell your representative to support an amendment (to S. 2155) that stops federally-subsidized banks from discriminating against the lawful exercise of the Second Amendment.

---

Not a GOA member yet? We need you more than ever right now!
---
Tell Your Representative to Protect Gun Rights from Gun-Hating Banks!
Dear Friend:
Threats on the Second Amendment come from all angles, not just from anti-gun politicians.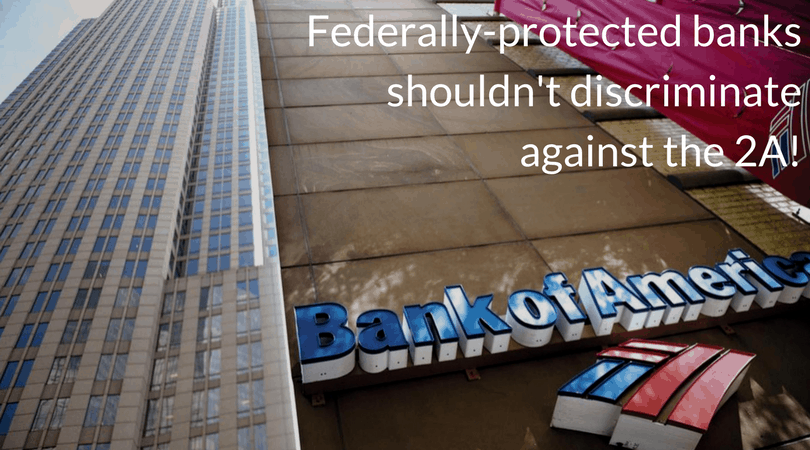 Undoubtedly, you have seen Dick's Sporting Goods refusing to sell any more AR-15s, destroying their remaining inventory, and also hiring three anti-gun lobbyists to advise them on the issue.
As outrageous as that is, now some banks are refusing to do business with certain gun manufactures and gun stores.
The threat here is that if gun manufactures and stores can't get the financial backing they need to do business, the Second Amendment will be effectively gutted because no one will be making or selling firearms.
Two years ago, Congress passed a GOA-backed appropriations rider prohibiting Obama's Operation Chokepoint program from cutting off bank loans and other bank services to gun dealers and gun manufacturers.
The Obama administration's effort was clearly intended to strangle the exercise of the Second Amendment by shutting down gun dealers and manufacturers.
To state the obvious, the Second Amendment would become a hollow right without the availability of guns.
Now, several very large financial institutions, such as Citibank and Bank of America — which are given quasi-monopoly status by federal regulation and which are protected by potential taxpayer bailouts — are trying to do the same.
Even more recently, it has been reported that large banks and credit card issuers have been considering a special code for gun-related transactions — and perhaps even a list of firearms purchased with credit cards.
Although in the preliminary stages, the discussions could result in a firearm registry maintained by financial institutions — or perhaps even the selective ability to block all or some gun purchases.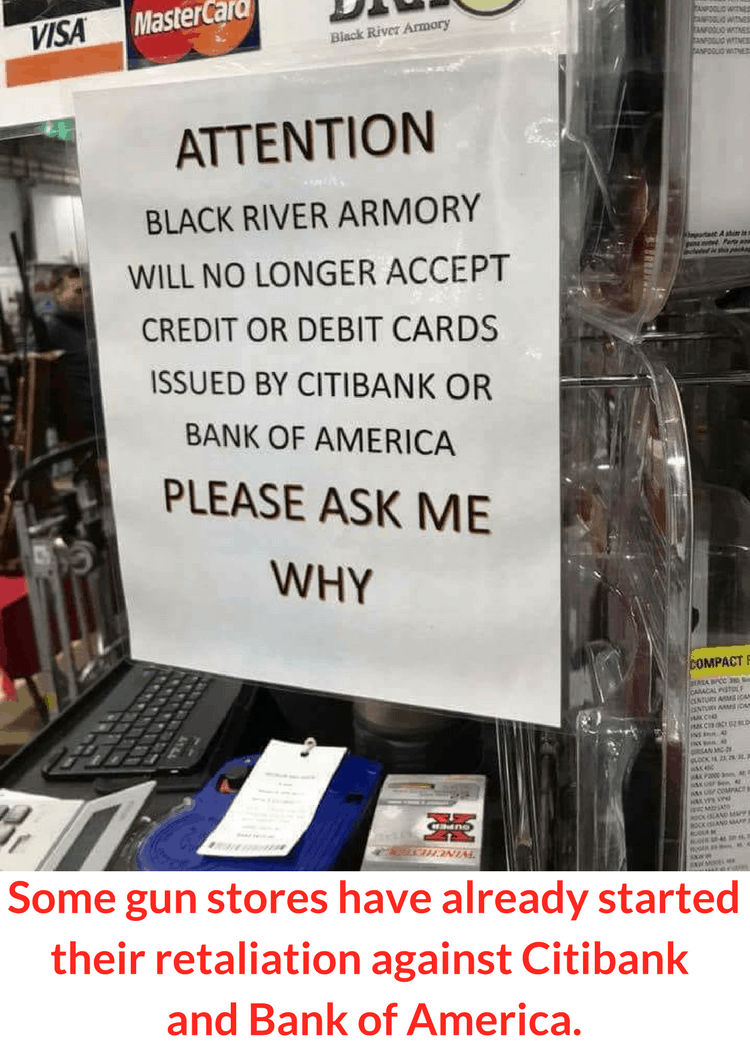 GOA acknowledges that businesses generally have a right to do business with whomever they want.
However, these banks have been allowed to conduct business as quasi-monopolies by federal regulation and are guaranteed from failure by funds provided by the American taxpayer.
Therefore, these banks shouldn't be allowed to refuse their services to the legitimate and lawful practice of making and selling firearms.
So please take action on S. 2155 (the Dodd-Frank legislation). It has passed the Senate and is now in the House for consideration.
And in particular, please insist that the bill be amended in the House to prohibit banks which are given breaks under that legislation from using their monopoly power to discriminate against gun dealers and gun manufacturers because of the lawful exercise of their Second Amendment rights.
To be clear, GOA is not taking a position on the underlying banking reform bill (S. 2155). Our interest is simply to make sure that banks, which can be propped up with federal tax dollars, are not turning around and shredding our Second Amendment rights.
I recently wrote a letter to the House of Representatives, but I need your activism to encourage the House to pay attention to this threat.
Please tell your representative not to support S. 2155 without the inclusion of an amendment that stops federally-guaranteed banks from discriminating against the lawful exercise of the Second Amendment.
Sincerely,
Michael Hammond
Legislative Counsel
P.S.
John Velleco
Director of Operations
Gun Owners of America
Follow me on Twitter: @Velleco
P.S. This is just the most recent attack on the Second Amendment. There's many other state and federal fronts GOA is fighting on such as bump stock bans, Gun Confiscation Orders and more. Would you consider becoming a GOA Patriot Member to strengthen our ranks? (Patriot members receive personalized membership cards, an exclusive hat, and more!)
P.S.S. Some GOA members may wonder what banks are supportive of Second Amendment rights. It appears that Wells Fargo has resisted caving into supporting gun control.
Featured GOA News & Updates