Universal Gun Registry Bill Exits the House — Crippled
Written by Michael Hammond
Published: 28 February 2019
Anti-gun Democrats Should be Concerned About What Happened in the House
---
Not a GOA member yet? You can join Gun Owners of America for only $20.
---
Your Action Has Made a Huge Difference!
Democrats may have applauded the passage yesterday of their crown jewel of gun control on the floor of the House.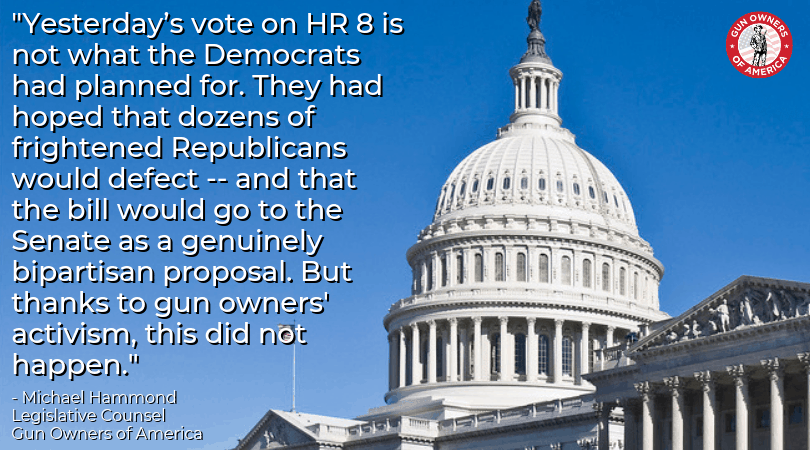 But what they don't realize is that yesterday was not a good day for them.
As much as they tried to put a brave face on their 240-190 final passage vote on H.R. 8, the truth is that — thanks to your activism — virtually every Republican opposed the bill.
And that means anti-gun Democrats face a HUGE uphill battle in getting enough Senate Republicans to support the National Gun Registry, a bill which would mandate Universal Background Checks.  For more on what was in the bill, go here​.
We already knew there were five Republican cosponsors supporting the bill in the House.  
So in addition to those five, only THREE other Republicans defected yesterday. 
For the record, here's the GOP gallery of shame:
* Buchanan, Vernon (FL)
* Diaz-Balart, Mario (FL)
* Fitzpatrick, Brian (PA)
* Hurd, Will (TX)
* King, Peter (NY)
* Mast, Brian (FL)
* Smith, Chris (NJ)
* Upton, Fred (MI)
You can see how every Representative voted by going here. Make sure to THANK your congressman if he or she voted against H.R. 8 and to rebuke those who voted anti-gun.
Anti-gun Democrats Losing Momentum
To be sure, yesterday's vote is not what the Democrats had planned for. 
They had hoped that dozens of frightened Republicans would defect — and that the bill would go to the Senate as a genuinely bipartisan proposal.
But thanks to you, this did not happen.
What's more, H.R. 8 goes to the Senate with a poison pill which will make it considerably less palatable to anti-gun Democrats in the upper chamber.
Under a successful amendment offered by Rep. Doug Collins (R-GA), illegal aliens who fail background checks would have to be turned in to Immigration and Customs Enforcement (ICE). 
Given that most liberal Democrats want to abolish ICE, this threw the whole Democratic caucus into a tizzy.  As the clock ticked on the roll call vote, Democrats sat there — stunned — trying to figure out whether to alienate their gun control base or the illegal immigration advocates.
H.R. 8 now goes to the Senate.  So please stay tuned for our next alert which will urge you to contact your Senators.
Because that is where the battle lines will form.  And that is where we must defeat H.R. 8.
Given that we may have a majority of Senators who oppose H.R. 8, things actually look promising for us.
But we can't take anything for granted, so I strongly encourage you to take action as soon as you receive GOA's next action alert.
Several GOP Reps. Fight for 2A Rights
We have a lot of people to thank, as GOA staff worked with several Republican Representatives before the oncoming vote.
Particular thanks go to Representatives Steve Scalise (LA), Doug Collins (GA), Debbie Lesko (AZ), and Ken Buck (CO), among others.
House Minority Whip Scalise gave an impassioned speech against the bill on the House floor, much to the chagrin of Democrats who had blocked him from testifying at a gun control hearing earlier this month.  
Imagine that. Scalise was a victim of a Bernie Sanders-loving supporter who shot him on a baseball field in 2017.
But Democrats didn't want to hear what Scalise had to say because, as Scalise later noted, "they just wanted to hear the side of people who [were] promoting gun control."
Democrats Show their True Colors by Failing to Protect Battered Women
Anti-gun Democrats also blocked Rep. Lesko from offering an amendment to protect a battered woman who needs a gun to protect herself against a violent stalker. Nancy Pelosi's leadership team ruled the amendment out of order.
Apparently, battered women are of no concern to Democrats unless they serve their anti-gun narrative.
Democrats added a face-saving amendment on the floor yesterday, but it's a joke. The amendment only allows a battered woman to be given a firearm right before she is about to be assaulted, but then she has to give it back as soon as the assault is over.
Nancy Pelosi's iron grip blocked many possible improvements from ever being considered on the House floor — such as amendments to protect veterans, police officers, concealed carriers and more.
Bottom line, H.R. 8 was not about public safety. Over and over again we see that mass shooters, who don't steal their weapons, pass background checks before purchasing their firearms.  So extending the background checks to private sales will do nothing to keep guns "out of the wrong hands."
The reality is that H.R. 8 is all about "putting points on the board" for billionaire Michael Bloomberg — as he pushes toward his goal of ultimately banning civilian possession of all firearms.
Again, the battle now moves to the Senate. Please stay tuned for a future alert with pre-written postcards to your Senators.