Protect Your Gun Rights This Christmas
Written by Gun Owners of America
Published: 17 November 2016
How Can You Advance Gun Rights Over the Holidays This Year?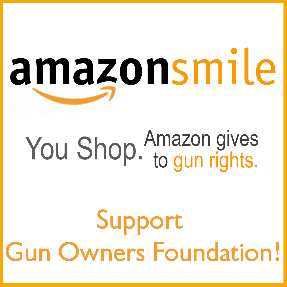 Every time you shop for your family and friends this holiday season, a portion of that purchase will support your gun rights — if you shop through AmazonSmile. So bookmark this link … select Gun Owners Foundation … and shop your way to safeguarding the Second Amendment.
---
Gun Owners Foundation Defending Your Gun Rights in Court
We dodged a bullet on November 8.
Just think about the horrors that would have happened if Hillary Clinton had emerged victorious as our new President.
She could have appointed dozens of anti-gun judges — including two or three gun-grabbing Justices to the Supreme Court.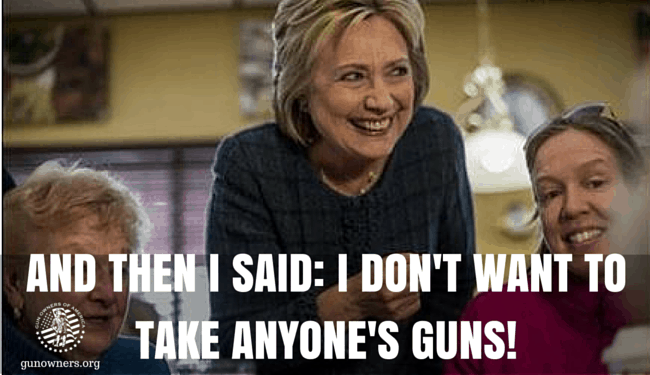 Hillary could have reshaped the courts for a generation to come.
And she would have helped to solidify an errant judicial view that there is NO INDIVIDUAL RIGHT to use a weapon in self-defense.
Thankfully, that's not going to be the case.
Donald Trump is President, and he has put forward a list of twenty potential, pro-gun nominees.
And that means we could be on the threshold of experiencing brand new opportunities in the courts.
Now, this is not to say that Gun Owners has not already been active in the courts.
Gun Owners Foundation: Helping the "little guy"
GOF is the foundation arm of Gun Owners of America — and it exists to provide expert legal support for law-abiding individuals involved in firearms-related cases.
The Foundation has assisted numerous individuals against federal firearms charges, as well as state and local prosecutions for the use of a firearm in self-defense.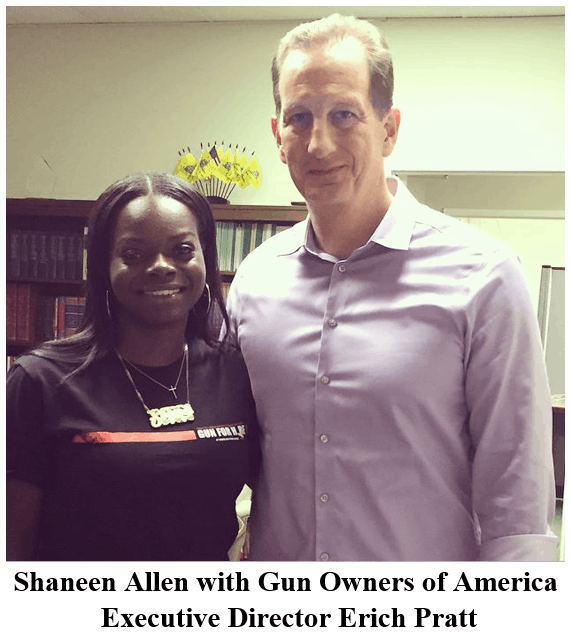 For example, you probably remember Shaneen Allen, a concealed carrier from Philadelphia who was arrested for merely possessing her handgun in New Jersey.
Shaneen, who is a nurse and mother of two, spent 40 long days in jail.
So Gun Owners America went to bat for her, and we lobbied Governor Christie to issue Shaneen a full pardon, which he eventually did.
And then GOA's foundation set up a contribution link where gun owners nationwide could donate to Shaneen and help her with her legal expenses.
This is what Gun Owners Foundation does.  We are here to help the little guy — or the "little gal," as the case may be.
Gun Owners Foundation remains in business because of the charitable contributions from those who love the Constitution.
And many gun owners do this by contributing to Gun Owners Foundation through the Combined Federal Campaign (Link no longer active).  The GOF number is 10042.
But there is also a really simple way to help GOF, especially around the holidays.
You Can Easily Defend Gun Rights this Holiday Season
One of the easiest ways to help support GOF and the legal work we do is by shopping using AmazonSmile.com.
Chances are, you've already bought products through Amazon.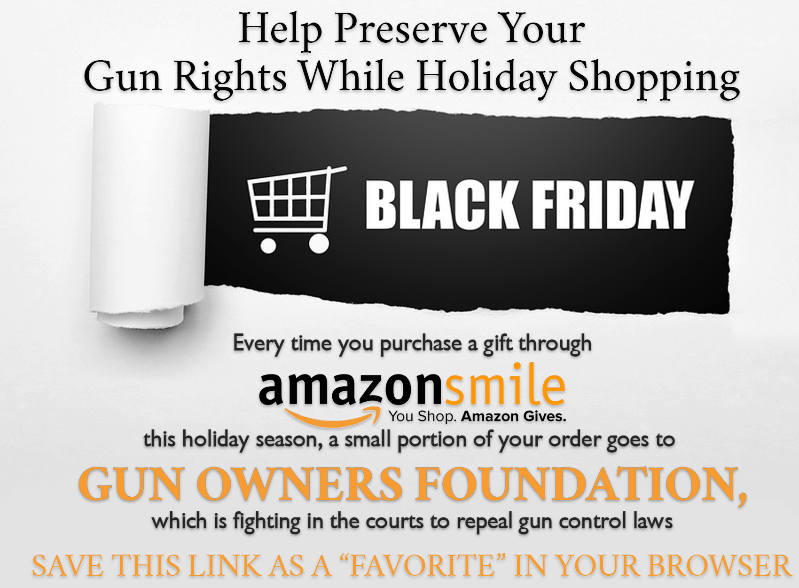 But did you know that if you enter their site through the AmazonSmile portal, you can shop for Christmas products, while at the same time, automatically sending a small portion to GOF.
Why not get started this year when you take advantage of Amazon's Black Friday specials next week?
It's a simple way to support the organization that is doing yeoman's work in defense of our gun rights in the courts.
Last year, Gun Owners Foundation WON THREE IMPORTANT CASES that were heard by the Supreme Court — judgments that will help erect barriers against gun confiscation and protect gun owners from unreasonable searches and seizures.
You can read more about the Henderson, Johnson and Rodriguez cases on the GOF website at www.gunowners.com.
Justice Thomas Uses GOF Brief to "Stump" Obama Lawyers
This year, we made quite a splash when Supreme Court Justice Clarence Thomas broke a decade-long tradition of silence by peppering questions at an anti-gun lawyer appearing before the Court.  Why?
Because, according to Mother Jones, his questions were based on the brief filed in that case by Gun Owners Foundation — and the anti-gun lawyer in the case, representing the Obama Administration, was reportedly "stumped."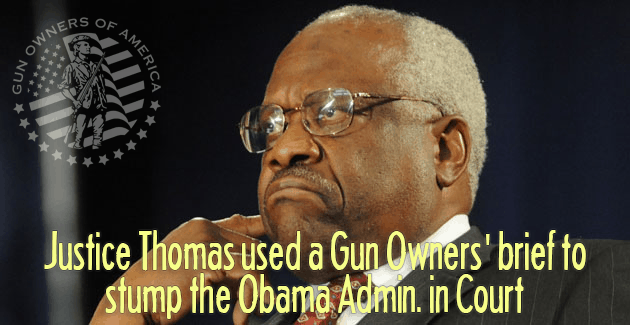 The ideas and arguments that GOF has articulated have always found a receptive audience with Justice Thomas.
After all, he was the one who adopted some of GOF's arguments in the famous McDonald case from 2010.
This decision — which followed the landmark case in Heller two years earlier — recognized that the Second Amendment right to keep and bear arms must be protected by every state and locality in the union.
Gun Owners Foundation filed briefs in both the Heller and McDonald cases but it was the latter victory which led the anti-gun Justice Stephen Breyer to lament: "Incorporating the right [to keep and bear arms] recognized in Heller may change the law in many of the 50 states."
Well, Justice Breyer was right, as we have seen gun control laws repealed all over the country — and concealed carry extended to every state.
GOF Defending Concealed Carry in Court
Right now, Gun Owners Foundation is backing a case which challenges the District of Columbia's assault on concealed carry — a case that has national implications.
The case is Grace v. DC, and our brief rebukes the District for refusing to abide by the principles set forth in the 2008 Heller case.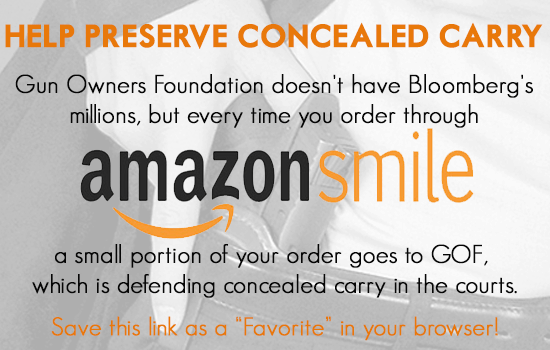 Matthew Grace lives in a city which has one of the highest murder rates in the country.
But the District is trying to limit Mr. Grace and other concealed carriers to only those who can show a "good reason," which effectively means that almost no one would ever get a permit.
Our brief challenges the idea that there are exceptions to constitutionally-protected rights, and that courts can use so-called "balancing tests" to deny those rights.
Grace was victorious in the District Court, which determined that D.C.'s law is "likely" violating the Second Amendment.  The case will now be heard by the U.S. Court of Appeals for the D.C. Circuit.
Again, you can help support cases like this by doing your Christmas (and Black Friday) shopping through AmazonSmile — and selecting Gun Owners Foundation as your charitable organization.
With your help, GOF is truly making an impact upon the courts in defense of gun owners' rights.
Sincerely,
Larry Pratt
Executive Director Emeritus
P.S.  You can help support your gun rights every time you shop for your family and friends this Christmas. Simply bookmark this AmazonSmile link … select Gun Owners Foundation … and shop your way to safeguarding the Second Amendment.
Featured GOA News & Updates