Republican Leadership Prepared to Relinquish all (Gun) Policy Decisions to Democrats … for the Next Ten Months!
Written by admin
Published: 17 November 2014
First, the good news.  Last week, you contacted your congressional representatives and demanded a "short term" Continuing Resolution.  They heard you, and every conservative in Washington is echoing this theme.
Now for the bad news.  Even though Republicans just won control of Congress, what's the first "bright idea" the Republican leadership comes up with after their wave election?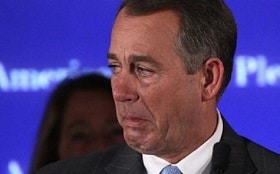 ANSWER: GIVE CONGRESSIONAL DEMOCRATS CONTROL OF THE CONGRESS FOR THE NEXT TEN MONTHS!!!!!
Thankfully, the overwhelming percentage of conservative Republicans in Washington are opposed to this.  And that's why we need to keep lighting the fire under them, so they will continue to keep pressing their leadership to stand up to Harry Reid and Barack Obama.
Here is what's at stake: Virtually all spending and policy decisions are made on the giant government-funding bill, called the "continuing resolution" or "CR." 
And it's in the "CR" where we have been able to defund much of Obama's anti-gun agenda:  defunding the shotgun import ban, Fast & Furious, the implementation of the Arms Trade Treaty, etc.
The current "CR" is slated to expire on December 11. So the Republican House has two choices:
1. It can allow the repudiated Democrats currently in control of the Senate (until January 5) to make all of the spending and policy decisions — which will affect your gun rights — until September 30, 2015. It would do this by passing a so-called "long-term CR" which would set policy and spending until the end of the fiscal year (September 30, 2015). 
2. Or it would do a "short-term CR" into January, February, or March. This would allow the newly elected Republican Congress to set spending and policy for the federal government for most of next year.
What difference does it make?
Given Obama's "veto pen," all of the pro-gun policy for the next two years will probably be achieved on this bill — or not.
When April 15 hits — and millions of Americans are hit with hundreds of dollars of ObamaFines — we may be able to create a massive fight over ObamaCare's unconstitutional mandates.  
And this could be the best chance that gun owners have of eliminating a backdoor gun ban — where health data is compiled on millions of Americans and used to disarm gun owners (similar to how 175,000 military veterans have already been disarmed).
But we can't do it without a short-term CR.
Finally, with respect to the anti-gun amnesty provisions Obama is about to illegally promulgate by executive fiat? We can address these in a Republican controlled Congress. But we can't, so long as Harry Reid is in the catbird's seat.
So we ask this of Republicans: Why did we elect you? It certainly wasn't so that you could cede all of the spending and policy decisions to Democrats for 37.5% of your congressional term. 
It's time to show some backbone. And the first step is a short-term CR. 
ACTION:  Contact your Representative and urge him to insist on a "short-term CR."
NOTE:  This alert contains different messages for Republican and Democrat Representatives.  By using the GOA Engage site to contact your Representative, the system will automatically select the correct letter.
Featured GOA News & Updates