Harry Reid to Take One Last Shot at the Second Amendment in the Lame Duck Session
Written by admin
Published: 14 November 2014
There's a reason why we at GOA call the post-election period of Congress the "slime duck" session.
Harry Reid and his minions now will try to shove down our throats all of the anti-gun legislation and nominees they were afraid to reveal before the elections — when voters still had the option to punish them by throwing them out of office.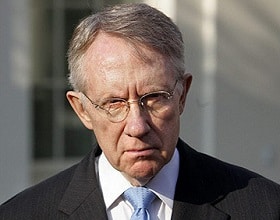 As it turns out, gun owners in most states knew exactly what Reid had in mind when they went to the polis on November 4.  And, as a result, anti-gun hypocrites like Arkansas' Mark Pryor, Louisiana's Mary Landrieu, North Carolina's Kay Hagan, Alaska's Mark Begich, and Colorado's Mark Udall are pretty much "dead ducks."
The question is: Will these anti-gun liars be given the power to make virtually all budgetary gun decisions on the giant government-funding bill (the "continuing resolution" or "CR")?
And will they get to shove through an anti-gun successor to Attorney General Eric Holder in December under Harry Reid's "nuclear option" fraud rules … where the discredited and repudiated Democratic anti-gun "slime ducks" will make the decision … and where Harry Reid won't need a single Republican vote? 
On the "CR" issue, government funding is set to expire on December 11, so a new bill will be necessary.
But Congress has a choice of whether to fund it for almost an entire year — or to kick it over to February or March, when the newly elected pro-gun senators will have an opportunity to have some say in a giant bill which makes virtually all policy decisions for the government.
For instance, the "CR" will decide whether or not the Schumer amendment prohibiting relief from disabilities will be renewed. It will decide whether to defund the shotgun import ban, the ammunition import ban, the illegal multiple sale reporting requirements, the implementation of the Arms Trade Treaty, and Operation Choke Point.
We would much rather have incoming Iowa Senator Joni Ernst make these decisions than her anti-gun predecessor, Tom Harkin. 
One more thing: About April 15, millions of Americans will realize (perhaps for the first time) that they have been assessed a fine of hundreds of dollars for not complying with the anti-gun ObamaCare law.
Gun owners despise this law because of concerns that a national health database could be used by federal bureaucrats to disarm law-abiding Americans, in the same way that more than 175,000 military veterans have already been disarmed.
But this April 15 will hit millions of additional Americans in the pocketbook.  At that time, Republicans will want a legislative vehicle (such as a "CR") to block IRS enforcement of this wildly unpopular mandate. But, if Congress gives Obama a carte blanche through September 30, this will not be an option.
Before the new Congress is sworn in — this coming January — the Republicans are still in the minority in Harry Reid's Senate.  Thus, the most effective course of action would be to convince House members — and especially Speaker John Boehner — to refuse making any long-term deals on the CR.
This will give the new, pro-gun members of Congress who arrive in January a stronger hand in using the CR to protect gun rights.
ACTION: Recognizing that a lot of gun policy is "hidden" in the Continuing Resolution, urge your Representatives to OPPOSE any long-term CR.  Insist that any CR they agree to in December must expire (or be reconsidered) before April of next year.
A LONG WAY OFF.  You might remember that GOA Executive Director Larry Pratt made a cameo appearance in a movie this year.  A Long Way Off is a 21st century version of the Prodigal Son — a movie that won the Best Picture award at the 2014 International Christian Film Festival.  While the movie ran in theaters this past summer, the DVD is now available at Wal-Mart, Target and mainstream bookstores nationwide.  Look for the DVD at these retail outlets, or order your own copy online.  
Featured GOA News & Updates