Obama Promises "Executive Action" on Gun Control
Written by admin
Published: 09 October 2015
"Most Americans find it very offensive to hear the President use a tragedy like this, and instantly turn it into a political opportunity." — Erich Pratt, USA Today, October 5, 2015
---
ACTION: The President is trying to make an end-run around Congress and impose gun control by "Executive Action." Please click here and use the pre-written letter to demand that Representatives make sure the new Speaker of the House will use the appropriations process to defund (aka, repeal) every illegal Executive Action on gun control.
---
Oregon Residents Rebuke the President
You probably remember the now-infamous mantra that we've heard from this White House:  "You never let a good crisis go to waste."
Right?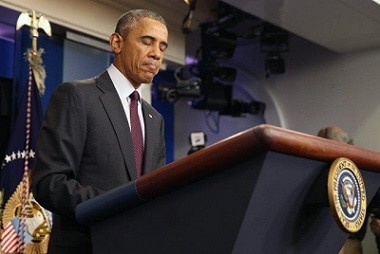 Well, the President traveled to Oregon today to further politicize the tragic shooting that occurred there last week.
But residents of Roseburg are not amused, and they are decrying the President's visit today.
Over 8,000 people have signed onto a website declaring that the President is "not welcome" in Oregon today.
Some massacre survivors are boycotting the President. Some have told him to "quit with the gun control."
The father of one shooting victim said, "I've spoken to my family and for myself and for my family, my daughter [who was shot last week] and son, on principle I find that we are in disagreement with his policies on gun control and therefore we will not be attending the visit."
Other residents are protesting the President's actions by buying new firearms. Gun sales are up since the Roseburg slayings.
"It's opened my eyes," said J.J. Vicari, 19, a survivor of last week's shooting. "I want to have a gun in the house to protect myself, to protect the people I'm with."
It seems that opposition to the President's gun control push is coming from multiple places — not just the "gun community." Last Sunday, many churches in the greater Roseburg area were preaching on "God and guns."
Obama considering more "Executive Actions" on guns
But this week, President Obama has made it clear that, for him, more gun control is the answer.
Here's what The Washington Post reported yesterday, in an article entitled "Obama weighs expanding background checks through executive authority":
"President Obama is seriously considering circumventing Congress with his executive authority and imposing new background-check requirements for buyers who purchase weapons from high-volume gun dealers."
Translated, if you are an individual who is not a dealer, but the administration thinks you are selling too many guns from your private collection, then you will be treated as a gun dealer (and will face a prison sentence because you have not acquired an FFL).
And, in clear violation of law, Obama appears to be prepared to apply this to gun owners who are liquidating all or part of their personal collections.
Don't be surprised if we also see a presidential push for Universal Background Checks (aka, Universal Gun Registration).
We cannot let this stand. The President is trying to make an end-run around Congress, at a time when the House is in chaos.
That's why it's all the more important that we DEMAND that the next Speaker of the House use the appropriations process to defund (aka, kill) every illegal Executive Action on gun control.
Defunding gun control — that is, using the congressional "power of the purse" — is the same way we repealed an FBI gun tax under President Clinton, overturned a shotgun import ban by Obama, and killed the ATF's multiple sales registration throughout the country.
This is the best way to repeal gun control, but it will require the Republicans to put on their "big boy pants."
Please use our pre-written letter and take action here today!
Featured GOA News & Updates