Will Wisconsin Become the Fifteenth Constitutional Carry state?
Written by Gun Owners of America
Published: 21 September 2017
Urge your state senator to support Constitutional Carry!
---
Join Gun Owners of America today and double your contribution with our matching fund!
---
Keep Up the Pressure for Constitutional Carry in Madison
I have some good news for you.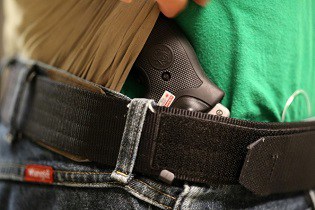 Constitutional Carry (Senate Bill 169) — the lawful carrying of a firearm without government permission — has moved out of committee in the state senate.
And now GOA is rallying gun owners across the Badger State to contact their state senator to support SB 169.
Please urge state senator to support SB 169.
In addition to abolishing the need for a bureaucrat's permission to carry a gun, the bill also rids concealed carriers of certain gun free zones.
The fact is you shouldn't have to get a permit to carry a gun; especially when permitless open carry is already the law in Wisconsin.
So again, please urge your state senator to support SB 169. (Link no longer available)
In Liberty,
Jordan Stein
Director of Communications
Gun Owners of America
Follow me on Twitter: @jordankstein 
PS: Gun owners in Wisconsin are rallying for Constitutional Carry. Consider chipping in $20, $50, or $100 so GOA can keep up the pressure. Remember, all contributions to GOA are doubled!
Featured GOA News & Updates