It's Christmas in July
Written by admin
Published: 20 July 2016
Your Activism Has Halted the Push for Gun Control … For Now!
"GOP struggles to find votes for gun bill [which] has the backing of the National Rifle Association but is opposed by the Gun Owners of America, a rival group that bills itself as a "no compromise national gun rights organization." The Hill, July 6, 2016
---
Not a GOA member yet?  You can join Gun Owners of America today for only $20!
---
Great Firearms News, as Congress Gets Ready to Go Home
Dear Friend:
I was really excited to read the headline.
It was from one of the gun blogs that I regularly read.  The title said it all: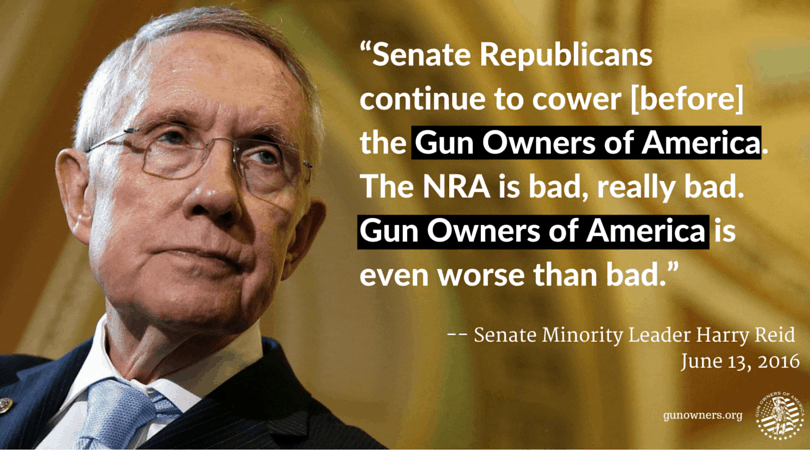 "House to break until September with no votes on gun control bills."
I'm sure you realize what great news this is. 
After the Orlando shooting, the entire media chorus was saying that some kind of gun control was going to pass.
But so far, you've proven them wrong.
I know that I've emailed you quite a bit over the past month, urging you to contact your Senators and Representatives.
We needed to, given that the anti-gun Left was using several shootings as an excuse to push additional restrictions upon our Second Amendment protected rights.
But now, as we look back over the past several weeks, we see that all our hard work has been worth it.
GOA and its members certainly got under the Senate Minority Leader's skin.  Harry Reid said:
Senate Republicans continue to cower [before] the Gun Owners of America. The NRA is bad, really bad. Gun Owners of America is even worse than bad.
GOA's efforts aimed at the House of Representatives also bore fruit.
Breitbart reported on GOA's grassroots efforts, saying:
GOA sounded the alarm because of House Majority Leader Kevin McCarthy's (R-CA-23) HR 5611, a bill that institutes elaborate new gun controls under the guise of fighting terrorism.
This is the anti-gun bill that has stalled in the House … at least, for now.
It's a huge victory.
You might as well call it: "Christmas in July!"
---
Start getting GOA's Legislative Action Alerts — and help deluge Congress with mountains of postcards and letters!
---
GOA Goes Postal
While we've won the opening skirmishes, the month of September will begin a whole new set of clashes.
When Congress gets back from their August break, gun control will be on the docket again.
So it's imperative that we NOT stay silent during the month-long recess.
Gun Owners of America is gearing up to generate a massive postcard and letter campaign, so we can deluge legislative offices.
Our simple message:  Oppose ALL gun control, and don't use the recent shootings as an excuse to limit the rights of gun owners.
If you are not receiving GOA's postal mailings, please click here to start receiving them.
Our postal campaigns are an important part of our legislative strategy.
Former Senator Jim DeMint has commented on how significant such mailings are.
He says there's nothing like seeing the snail mail pile up on the desks of legislators:
"Every letter, e-mail, or phone call makes a difference because elected officials know that for every one person who contacts us about an issue there are at least a hundred and maybe a thousand who feel the same way," Sen. DeMint said.
---
Start getting GOA's Legislative Action Alerts — and help deluge Congress with mountains of postcards and letters!
---
GOA Goes Viral on Social Media, YouTube
Finally, I want to make sure that you've seen some of our "viral" videos that GOA has been posting.
The first one is a debate that I did on CNN, where roughly half-a-million people have viewed it on Facebook and YouTube.  
I hope you'll check it out, if you haven't already.  Gun owners, and media pundits alike, have given it very good reviews.
The other project is truly a GOA production.
It's short — only five minutes — but it delivers a powerful message in showing the dangers of Gun Free Zones.
Click here to watch the video:
Gun owners are raving over this video.
Please check it out.  Share it on your Facebook page.  Email the URL to your friends and family.
We need to spread this pro-gun message around.
In Liberty,
Erich Pratt
Executive Director
Gun Owners of America
---
Start getting GOA's Legislative Action Alerts  — and help deluge Congress with mountains of postcards and letters!
---
Featured GOA News & Updates