Constitutional Carry is on its Way to the Governor in ND
Written by Erich Pratt
Published: 22 March 2017
Urge Governor Burgum to Sign Constitutional Carry into Law!
 
Click on the Take Action button (if you are a North Dakota resident) to urge Governor Doug Burgum to sign permitless carry (HB 1169) into law — a bill that will protect your right to carry a gun without registering yourself with the government or paying a permission fee. 
---
---
Dear North Dakota Gun Owner:
Thank you so much for taking action on Constitutional Carry!
Your hard work has paid off.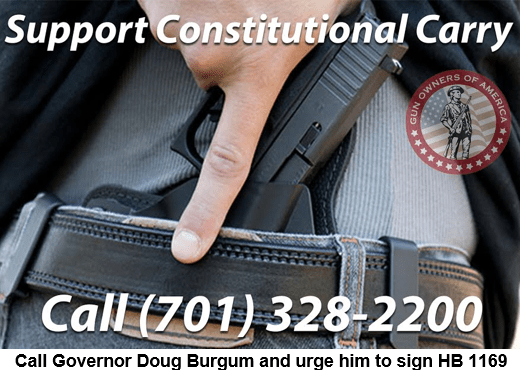 And now, I need you to contact Governor Doug Burgum right away.
The good news from this week is that the North Dakota Senate overwhelmingly approved HB 1169, which would establish Constitutional Carry throughout the entire state.
This means that Constitutional Carry is now on its way to Governor Burgum.
Under HB 1169, North Dakotans will no longer be required to get the government's permission to exercise their Second Amendment rights to carry a concealed firearm to protect themselves and their families. 
You don't need a government license to write a book.  So why should you have to get the government's okay in order to carry a concealed firearm for protection? 
You can be sure that Michael Bloomberg's machine will be pouring money into the state to encourage Governor Burgum to veto the bill.
Bloomberg has been doing this already in state after state, trying to encourage elected officials to oppose Constitutional Carry. 
But in the past two years, he has lost in Idaho, Mississippi, Missouri, New Hampshire and West Virginia.  All of these states now have permitless carry.
Michael Bloomberg may have billions of dollars.  But he doesn't have the grassroots.
That's where you come in!  
Please contact Gov. Burgum and urge him to sign HB 1169 into law.
Your activism makes a difference!
In Liberty,
Erich Pratt
Executive Director
P.S. Urge Governor Doug Burgum to sign Constitutional Carry (HB 1169) into law.  Please note: Only North Dakota residents can use the provided link to contact Gov. Burgum.
Featured GOA News & Updates