Thank You for Your Activism — It Makes a Difference
Written by John Velleco
Published: 02 March 2018


Click on the Take Action button to send an email urging your Representative to resist any "clever" schemes by the anti-gun Left to attach the anti-gun Fix NICS bill to the government spending bill. The pre-written text for your email is specially crafted for Republicans or Democrats.
---
Not a GOA member yet? We need you more than ever right now. You can join Gun Owners of America today for only $20!
---
It's Been a Long Week, But Much has been Accomplished
Dear Friend:
We want to thank the entire GOA membership for taking action this week — and, especially, for calling the Oval Office.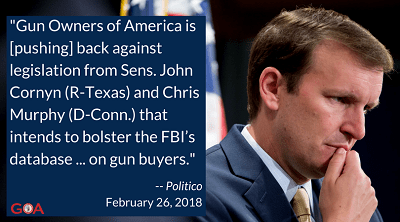 I personally have been to the White House many times since Trump took office, and I am in contact with those who are hammering out gun policy on behalf of the President on a regular basis.
The White House clearly knows where GOA and its members stand. Your collective voice has been VERY LOUD indeed.
So we want to thank you for that.
And you should be encouraged that some media outlets are declaring that prospects for gun control are as "dim as ever."
Because of your activism, the White House knows there is a significant chunk of the gun community that wants NO gun control … NO infringements … and, NO compromises.
Many of the public meetings with the President this week have involved efforts to pass gun control "lite."
But the White House knows that GOA and it's 1.5 million members are NOT supporting any gun control.
And they're not the only ones.
I and other GOA staff have met with the chief sponsor of the Fix NICS bill in the Senate, John Cornyn of Texas.
We've told him that GOA members oppose this legislation — but that we are heartily on board with passing concealed carry reciprocity.
And this is key, because it's the members of the legislature who will determine what goes into any bill that is sent to President Trump's desk.
What encourages me is that when we go into these meetings, we have GOA's membership standing behind us.
Capitol Hill offices are frequently telling us how "loud" our members are.
Again, I am grateful for that — because now we are facing a new, potential threat.
---


Up the pressure on your Congressmen by getting GOA's pre-written postcards that are sent to all GOA Members. You can join Gun Owners of America today for only $20!
---
Congress considers adding gun control to spending bill
Washington's Roll Call newspaper reports that congressmen are considering adding the Fix NICS gun ban bill to the annual spending bill, called the "Omnibus."
This is a serious threat because the omnibus is most definitely a "must pass bill."
This strategy is clever — from an anti-gun perspective — but it is not without its potential pitfalls.
Roll Call reports that the addition of Fix NICS — and nothing else — "would face steep resistance from Senate Democrats" because gun grabbers want far more gun control. And the bill would also be strongly opposed by pro-gun conservatives in the House.
On this latter point, you have played a significant role.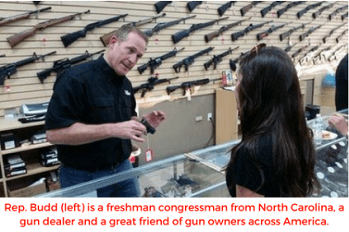 You will remember that GOA urged you in December to help us get cosponsors on the Rep. Ted Budd letter, which told Senators that if "Fix NICS" came back from the Senate without concealed carry reciprocity, it would not be considered.
Thankfully, there were dozens of congressmen who signed on to the Budd letter, and this has complicated efforts to get gun control passed — which is a good thing.
But more to the point: When the House leadership combined Fix NICS and concealed carry reciprocity into a "combo-bill" (H.R. 38) earlier this year, the House leadership promised us and its House members that Fix NICS WOULD NOT BE CONSIDERED unless reciprocity was added to it.
Having said this, it's probably worth reminding the House leadership of their commitment to us.
So please take just a moment to email a final message to your congressman.
And since this is the last alert of the week, let's just remind them once more to say "no" to all gun control — and to keep their promises to uphold their oath of office.
Thank you.
Sincerely,
John Velleco
Director of Government Operations
P.S. GOA is expending a huge amount of its resources to rally more gun owners into this battle … to get our no-compromise voice out to the media … and to put as much heat as we can on Congress. Please consider chipping in $10, $20 or $35 to put even more heat on legislators in Congress.
Featured GOA News & Updates