Constitutional Carry Moving in Pierre
Written by Erich Pratt
Published: 28 February 2017
South Dakota House Passes Constitutional Carry!
 
Click on the Take Action button and encourage your state senator to support HB 1072 — legislation to enact Constitutional Carry in South Dakota.
---
---
Urge Your Senator to Support Constitutional Carry!
Dear South Dakota Gun Owner:
Good news! 
Last week, the South Dakota House passed CONSTITUTIONAL CARRY legislation by a slim margin of 37 to 30. 
The bill, House Bill 1072, now goes to the Senate.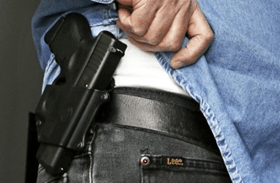 I told you last week how New Hampshire just joined the Constitutional Carry Club.
Now, Constitutional Carry is on the move almost two thousand miles away in South Dakota.
I am so thankful for the help that GOA members and activists are providing from coast-to-coast.
You may remember that, earlier this month, I urged you to contact your state representative in support of HB 1072.
Contacting your elected officials makes such a huge difference!
House Bill 1072 specifies that a person who may otherwise legally carry a concealed handgun is not required to obtain or possess a license or permit from the state to carry a concealed handgun.
In other words, you can carry a concealed gun without registering yourself with the government or paying a permission fee.
If you have to ask for permission, pay a tax on it and register yourself with the government, it's not a right.
This Constitutional Carry bill fixes that.
South Dakotans should not have to get the government's permission in order to exercise their Second Amendment right to carry a firearm for self-defense.  
And we are within striking distance of getting the state to recognize that fundamental fact. 
There is a Senate hearing scheduled on HB 1072 for Wednesday, March 1.
So please contact your state legislator to urge support for CONSTITUTIONAL CARRY, HB 1072.
In Liberty,
Erich Pratt
Executive Director
P.S. Go here to tell your legislator to support and vote for HB 1072 — a Constitutional Carry bill that allows those who may legally carry a handgun, to do so without getting a permission slip from the government or paying a fee.  Constitutional rights cannot be licensed or taxed.  
NOTE: Only South Dakota residents should take action on this alert.