After school shooting, sheriff gives Second Amendment defense that would make Founding Fathers proud
Written by Chris Enloe, The Blaze
Published: 18 September 2017
After school shooting, sheriff gives Second Amendment defense that would make Founding Fathers proud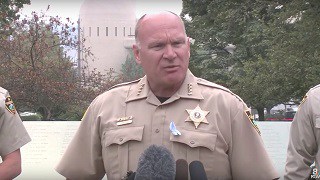 After a 15-year-old student opened fire at a high school near Spokane, Washington, earlier this week, the Spokane County Sheriff gave a defense of the Second Amendment that would make the Founding Fathers proud.
What did he say?
Click here to see more 2A articles like this one.
During a lengthy press conference on Thursday, Spokane County Sheriff Ozzie Knezovich explained in no uncertain terms that he believes a breakdown in society helped the teenage student execute his rampage, which took the life of one person and injured three others. It wasn't the gun, the sheriff explained while defending the Second Amendment.
"I can tell you, folks, I carried a gun all my life. I hunted, I shot. My friends and I…It's huntin' season back home. When I was in high school, every one of those rigs in the high school parking lot had a gun in the gun rack. Why? We went huntin' on the way home. None of those guns ever walked into a school. None of those guns ever shot anybody. What's the difference? Did the gun change? Or did you, as a society, change? I'll give ya odds that it was you as a society, because you started glorifying cultures of violence. You glorified the gang culture, you glorified games that actually give you points for raping and killing people. The gun didn't change, we changed."
Featured GOA News & Updates