56 Patriots Pledged Their Lives, Fortunes, and Sacred Honor
Written by Daniel J. Flynn
Published: 03 July 2017
56 Patriots Pledged Their Lives, Fortunes, and Sacred Honor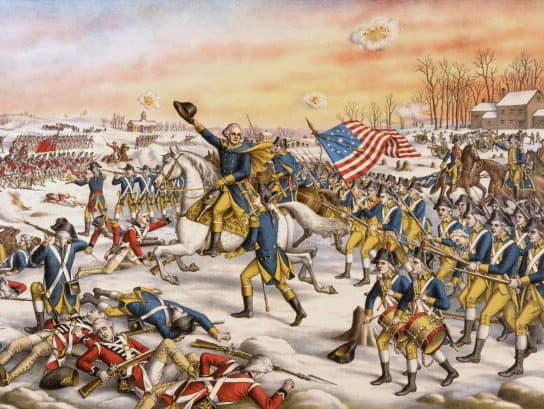 Fifty-six men pledged "our lives, our fortunes, and our sacred honor" 241 years ago.
They did not use empty words in acknowledging individual hazards in declaring independence.
Georgian George Walton got shot off his horse during the Battle of Savannah and spent more than a year as a prisoner of war. William Ellery lost his Newport, Rhode Island, home to British arsonists. Septuagenarian Francis Lewis, a great hater of Tories, became a greater hater of Tories after he lost his Queens estate to British vandals and his elderly wife, for a time, to harsh captivity. She never quite recovered, dying two years later.
The South Carolina delegation, which initially voted against independence, ironically suffered perhaps the greatest hardships. Edward Rutledge, Arthur Middleton, and Thomas Heyward, Jr., resided in a prisoner-of-war camp for about a year after the British captured them during the siege of Charleston.
Signing the Declaration of Independence did not amount to signing a contract for riches and glory. Consider the fate of Richard Stockton.
Seized in bed by loyalists, starved in a prison camp by the British, he returned to his estate to find his books burned, his livestock eaten, and his crops destroyed. Benson Lossing writes in 1848's Lives of the Signers: "He remained a prisoner for some time, and, on account of his position as one of the signers of the Declaration of Independence, he was treated with great severity. The hardships he endured shattered his constitution, and when he found himself almost a beggar, through the vandalism of the British in destroying his estate, and by the depreciation of the continental paper currency, he was seized with a despondency from which he never recovered."
Cancer rather than despondency proved his undoing. If his name lives on, it does primarily through his namesake in sports broadcasting and a rest stop on the New Jersey Turnpike.
Featured GOA News & Updates