10 Things You Should Never Do As A Concealed Carrier
Written by G. Halek, Concealed Nation
Published: 01 September 2017
10 Things You Should Never Do As A Concealed Carrier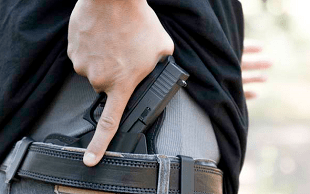 There are WAY more than 10 things you should never do as a concealed carrier or as a firearms owner in general.  But we've decided to pick 10 extremely important ones.  We're not judging you if you do these things – we're just saying it's the opposite of responsible.
10.  Firing Warning Shots
There are a lot of tense, ambiguous situations out there.  Like, maybe you're debating whether or not you should take a defensive posture and remove your concealed carry firearm or not.  Let's skip to the chase – if you feel threatened, act accordingly.  That's all it comes down to.  But DO NOT – repeat, DO NOT – fire warning shots.  If someone doesn't believe your concealed carry firearm is loaded, they're welcome to find out the hard way.  Heck, if you have it out already, you can even tell them to chill out on the ground while you wait for police to arrive.  There's a whole lot of options (A LOT).  Firing a warning shot isn't one of them.
And in most cases, discharging a firearm within most municipalities or while out in town is an actual crime.  As in, if you discharged that round and police arrive and find that you weren't actively using that round to defend yourself from an imminent, deadly threat – you're in hot water.  So, if it's come to rounds being exchanged – make sure the first one counts.
9.  Pants Tuck Your Concealed Carry Pistol Without A Holster
Can't afford gender reassignment surgery?  Having a hard time hitting those high soprano notes?  Sticking a loaded pistol down the front of your pants isn't really a good alternative – but it will work!
Holsterless concealed carry isn't effective.  There's nothing protecting your trigger guard and even with a tight belt, you're not really providing good, even retention across the firearm.  It's asking for a disaster to happen.
Holsters are just like ammunition – a required investment in order to protect yourself.  And there are plenty that are affordable and effective.
Featured GOA News & Updates