WY: The Wyoming Senate is Moving the Second Amendment Protection Act!
Written by Mark Jones
Published: 22 February 2022
GOA-backed SF0102 was successfully introduced into the Senate by a 21 to 9 vote and passed the Judiciary Committee by a 4-0 vote.  Today it passed a Senate Floor reading with only one "nay" vote.  This is great news!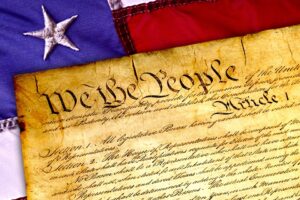 This Bill, called the Wyoming Second Amendment Protection Act, if enacted into law, would make it illegal for state and local officials to enforce or cooperate with unconstitutional Federal gun control.
Some opponents of SF0102 have claimed that it does not prohibit Wyoming officials from enforcing unconstitutional gun control or that the penalties only apply to firearms manufactured in Wyoming.
In fact, SF0102 references penalties found in the Wyoming Firearms Freedom Act of 2010.  Those penalties currently do only apply to Wyoming firearms. However, upon passage, SF0102 will apply those same penalties to any future gun control effort.  THIS IS A HUGE WIN FOR WYOMING FIREARMS FREEDOMS!
The penalties for violation of SF0102 include a $2,000 fine and up to one year in jail.  The potential of one year in jail gives this act one of the nation's stiffest penalties.
There has been a lot of misinformation spread about SF0102 and a similar Bill (SF87) that did not receive the necessary votes to make Senate introduction.  Bearing Arms has written an excellent explanation of this issue accessed by clicking here.
It is time to put to rest division over whether SF0102 or SF87 was the best bill and move forward with the one we have!  Even Senator Anthony Bouchard, the sponsor of failed SF87, did not speak in opposition to SF102 today, and he did not voice a "nay" vote upon call for an up or down vote.  
The next challenge for SF0102 will be one more hearing in the Senate on Wednesday and/or Thursday of this week.
We must guard against efforts to weaken or undermine SF0102 while passing a law that only provides marginal or weak protections.  Gun Owners of America will not accept a weak bill just to make citizens think they are being protected.
Please urge your Wyoming Senators and Representatives to pass SF0102 without weakening amendments.
When and if SF0102 passes the Senate, it will go to the Wyoming House next week.  We will provide regular updates about this important legislation and how you can help pass it into law to protect your Second Amendment rights!
In the meantime, please contact your Senators and Representatives and urge them to act.
Featured GOA News & Updates