Top Democrats Call For Senate Vote On Gun Reform Bills
Written by Chrissy Clark, The Federalist
Published: 05 August 2019
Top Democrats are calling on Senate Majority Leader Mitch McConnell to cancel the Senate's August recess in light of the two mass shootings that occurred this week…
Senate Minority Leader Chuck Schumer is also calling on McConnell to bring the Senate back into session…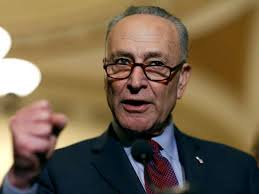 "El Paso, Dayton, one awful event after another. [Mitch McConnell] must call the Senate back for an emergency session to put the House-passed universal background checks legislation on the Senate floor for debate and a vote immediately…
But would passing these bills actually prevent mass shootings, such as the two that occurred in Ohio and Texas? According to Gun Owners of America, it wouldn't.
"Shooters are always going to shoot. No, [passing the House legislation] wouldn't have stopped a thing," said Gun Owners of America.
According to Ohio police and sources in Texas, neither of the shooters had background history that would have prevented them from obtaining a firearm. Therefore, even if these bills were passed, they would not have prevented these tragic mass shootings.
Featured GOA News & Updates