Constitutional Carry Moving in Charleston
Written by admin
Published: 10 February 2016
West Virginia House Passes Constitutional Carry!
ACTION:  Contact your state senator and encourage him or her to support legislation to enact Constitutional Carry in West Virginia!
---
Not a GOA member yet?  You can join Gun Owners of America today for only $20!
---
Urge Your Senator to Support Constitutional Carry
Good news! 
On Monday, the West Virginia House passed CONSTITUTIONAL CARRY legislation by a lopsided margin of 68 to 31.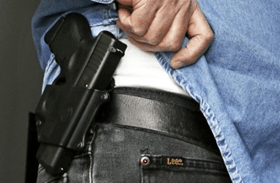 The bill, House Bill 4145, now goes to the Senate, where it is also expected to pass. 
House Bill 4145 specifies that a person who may otherwise legally carry a concealed handgun is not required to obtain or possess a license or permit from the state to carry a concealed handgun.
In other words, you can carry a concealed gun without registering yourself with the government or paying a permission fee.
If you have to ask for permission, pay a tax on it and register yourself with the government, it's not a right.
This Constitutional Carry bill fixes that.
Although anti-gun Governor Tomblin is expected to veto this bill, the legislature can easily override his veto.  
So congratulations!  West Virginians should not have to get the government's permission in order to exercise their Second Amendment right to carry a firearm for self-defense.  
And we are within striking distance of getting the state to recognize that fundamental fact. 
So please contact your state senator and urge him or her to support CONSTITUTIONAL CARRY, House Bill 4145.