Senate Leadership Bottling Up Constitutional Carry in Utah
Written by admin
Published: 03 March 2016
Gov. Herbert, Senate Republicans Trying to Kill Permitless Carry in Utah

Click the Take Action button and tell your state senator to demand that the Senate leadership take up and pass SB 97 — legislation to establish Constitutional Carry.  And tell Gov. Herbert to stop opposing concealed carry and to respect your Second Amendment rights instead.  You can call Gov. Herbert at 800-705-2464.
---
Not a GOA member yet?  You can join Gun Owners of America today for only $20!
---
Urge Gov. Herbert and Your State Senator to Support Constitutional Carry
Take action now to defend your rights!
Constitutional Carry legislation is languishing in the Utah State Senate.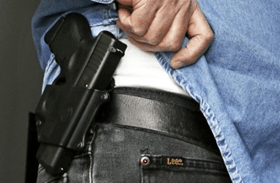 Senate Bill 97, sponsored by Sen. David Hinkins (R), would allow a non-prohibited person, 21 years or older to carry a concealed gun without a permit under the same conditions he may currently open carry a gun without a permit.
This means the gun has to be "Utah unloaded" (no round in the chamber but full magazine ok), and the gun cannot be carried into schools or other off limits locations. 
While this is not everything we want, this is a major step toward FULL Constitutional Carry — and it must be passed.
Unfortunately, someone is trying to stop it: Governor Gary Herbert.
Governor Herbert has threatened to veto the bill, so Senate leaders are wavering on whether to put it up for a vote.
Don't let them kill Constitutional Carry.
It must be put up for a vote, and it must be passed by a veto-proof majority.
So please tell Governor Herbert and your state senator to defend your Second Amendment rights by supporting SB 97.  
Sincerely,
Erich Pratt
Executive Director
Gun Owners of America
P.S.  Urge your state senator and the Governor to support SB 97, which will allow you to carry a concealed weapon without a permit under the same rules of open carry. 
Governor Herbert has said he will veto SB 97, and that's why Senate leaders are resisting a vote on it.  They need to feel the heat from the grassroots, so we can get SB 97 passed. 
You can also call Governor Herbert at:
Phone: 801-538-1000
Toll Free: 800-705-2464
Featured GOA News & Updates