Help J.R. Hoell get Reelected in New Hampshire
Written by admin
Published: 04 August 2016
Once Again, Representative J.R. Hoell is the Pro-Gun Champion in Concord
But He Needs Your Help for His Tough Reelection
I need you to take immediate action.
Please stop whatever else you're doing and make sure that you take just a minute to help "Mr. Pro-Gun" in the state capitol get reelected and sent back to Concord. 
That representative is J.R. Hoell of Dunbarton, who is facing a tough reelection battle in which he needs YOUR help.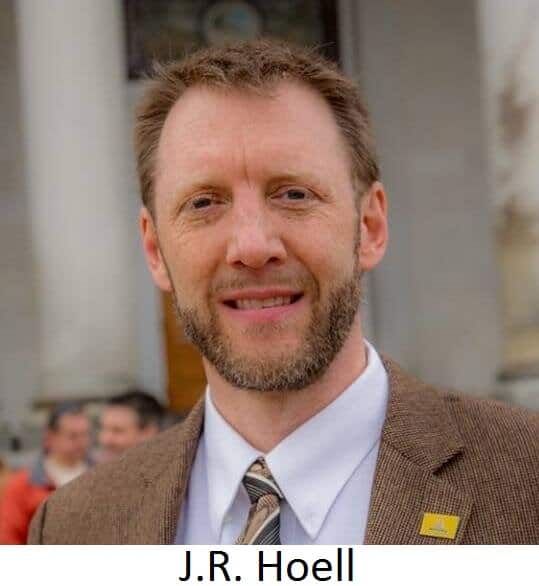 J.R. has been working busily this year to protect our Second Amendment rights and was recently at the epicenter of two HUGE victories involving gun rights.
His first victory involved legislative language that he offered to the Medicaid reauthorization bill — text that he hammered out in consultation with GOA's legislative counsel.  
That successful language prohibited anti-gun Governor Maggie Hassan and her "attorney general toadie" Joe Foster from sending the names of Medicaid recipients to the NICS system, thereby subjecting New Hampshire's economically disadvantaged to lifetime gun bans. 
You may remember that Barack Obama is trying to do just that with Social Security recipients, at the federal level. 
Hoell's amendment was signed into law as part of this larger bill.
The Hoell amendment thereby protects the gun rights of New Hampshire's seniors — and those who have been sucked into the state's "mental health"' system without due process and without the right to participate in their proceedings or to have a flesh-and-blood attorney.
That was victory #1.
Unfortunately, New Hampshire's attorney general, "Crazy Joe" Foster, tried to take that language and — rather than use it to PROHIBIT submission of names to NICS — tried to claim that it MANDATED the submission of the names of New Hampshire seniors to NICS.
So Rep. Hoell then waged an ultimately successful (yet sometimes lonely) battle to put together a coalition in opposition to Foster's lies.  
It took the New Hampshire Supreme Court only two weeks to dismiss Foster's corrupt and dishonest interpretation of Hoell's language. 
But once again, Hoell triumphed. 
That's the good news.  The bad news is that J.R. Hoell faces a tough (although doable) reelection battle in the three-member district consisting of Dunbarton and Bow. 
So he needs your help. 
This November will be a transformational election which will determine the direction of our country, particularly with respect to the Second Amendment. 
As the New York Times made clear in a front-page article on Thursday, July 28, Hillary Clinton and her Democratic minions have now made total destruction of the Second Amendment a central platform of their campaign. 
But while there is a lot of work to do on all levels, keeping J.R.'s pro-gun voice and activism in Concord has to be a very important objective for us. And we can't let that objective be lost in the shuffle. 
So please visit J.R. Hoell online at www.jrhoell.com/jr/donate, where you can contribute to his campaign.
While these victories are still fresh, we are asking you to dig deep in your pockets and make as large a contribution as you can afford to help J.R. Hoell get reelected. 
Sincerely,
Tim Macy
Chairman
P.S.  The Republican primary election for New Hampshire's 23rd district is Tuesday, September 13. Please mark that important date on calendar, but also make sure to help return J.R. Hoell, "Mr. Pro-Gun," to Concord by contributing to his campaign:   www.jrhoell.com/jr/donate
Paid for by Gun Owners of America Political Victory Fund. Not authorized by any candidate or candidate's committee.
Featured GOA News & Updates