Constitutional Carry Moving in Concord
Written by admin
Published: 20 January 2016
New Hampshire House Passes Constitutional Carry!
ACTION:  Contact your state senator and encourage him or her to support legislation to enact Constitutional Carry in New Hampshire!
---
Not a GOA member yet?  You can join Gun Owners of America today for only $20!
---
Urge Your State Senator to Support this Freedom-loving Effort!
Good news! 
Earlier this month, the New Hampshire House passed CONSTITUTIONAL CARRY legislation by a lopsided margin of 206 to 146.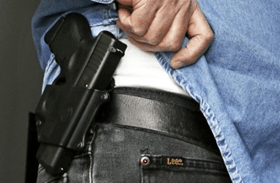 The bill, House Bill 582, now goes to the Senate, where it is also expected to pass. 
The legislation has a lot of good points: 
* It would limit the information which could be required when you apply for your OPTIONAL license. 
* And, although you won't need a license to carry, you will be able to get one more easily for purposes of reciprocity and, after we get rid of Obama, for Brady Check compliance. 
Although anti-gun Governor Maggie Hassan is expected to veto this bill, there are procedural ways around her impediment.  
And, one way or another, Hassan won't be in the corner office next year.  Plus, we will have locked in the votes for quick passage of constitutional carry. 
So congratulations!  New Hampshirites should not have to get the government's permission in order to exercise their Second Amendment right to carry a firearm for self-defense. 
And we are within striking distance of getting the state to recognize that fundamental fact. 
So please contact your state senator and urge him or her to support CONSTITUTIONAL CARRY, House Bill 582.