Permitless Carry Introduced in Louisiana
Written by admin
Published: 20 January 2016
Will Louisiana Become the Next Constitutional Carry State?
ACTION:   Contact your state representative and encourage him or her to cosponsor legislation to enact Constitutional Carry in Louisiana!
---
Not a GOA member yet?  You can join Gun Owners of America today for only $20!
---
Urge Your State Rep. to Cosponsor this Freedom-loving Effort!
Take action now to defend your rights!
State Rep. Barry Ivey has filed Constitutional Carry for Louisiana, in the form of House Bill 4.
HB 4 amends the state constitution by specifying that a person who may otherwise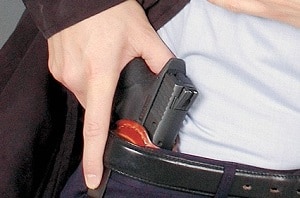 legally carry a handgun is not required to obtain or possess a license or permit from the state to carry a handgun in Louisiana. 
The language is simple:
"The right of each citizen to keep and bear arms includes the right to possess a concealed handgun without the necessity of obtaining a permit or license, unless the person is prohibited from possessing a firearm under the laws of Louisiana or the laws of the United States."
If passed by legislators, it would be placed on the ballot for voters this November.
Go here to tell your state representative to support and vote FOR HB 4.
If passed, you would not need a government permission slip and admission fee to exercise a right the government is not allowed to infringe.
Featured GOA News & Updates