Your Activism Helped Kill an Anti-Gun Bill
Written by admin
Published: 24 May 2016
The Anti-Gun Sentencing Bill is Dead


Please click on the Take Action button to thank Senator Tom Cotton for helping kill the anti-gun sentencing bill.  And thank Senator John Boozman for refusing to lend his support to the legislation.
---
Not a GOA member yet?  You can join Gun Owners of America today for only $20!
---
Your Activism Kept Republican Legislators from Supporting a Bill their Leadership Wanted 
I got a phone call from a Congressional office last week.
The woman on the other end was an attorney in a Republican office, wanting to get more information on the anti-gun sentencing bill that we have been opposing (H.R. 3713).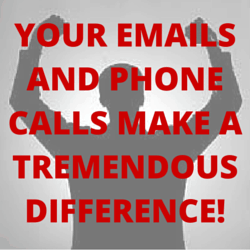 She told me that her boss, the Congressman, had received mail from GOA members in opposition to the legislation. 
"So what are your concerns with the bill," she asked.
I answered her questions, detailing the several anti-gun provisions in the bill.
She then indicated that, even though her boss had been asked by Republican leaders to sign onto the bill, he would not be cosponsoring the legislation, given all of the concerns I had articulated.
I thanked her, and hung up the phone.  
I sat at my desk, thinking about our conversation, and decided right then that there's one more person I need to thank.
And that person is YOU.
I want to thank you for all the activism you have taken this year — especially in opposition to this bill.  
Thank you for joining with more than 1.5 million other gun owners like yourself — GOA activists who have helped put the heat on legislators in Congress.
Your emails and phone calls make a tremendous difference!
You may not realize what a big deal this is.  
The Republican leadership in Congress STRONGLY supports this anti-gun sentencing bill.
The President wanted this bill sent to his desk.
And yet, because of your opposition and activism, key Republicans are balking at giving their support for the bill.
Not only that, there are now key legislators who are beginning to deliver the bill's eulogy.
Sen. Cotton Says the Anti-gun Sentencing Bill is Dead
Yes, I know the ole' saying: "You don't pop the cork until they bang the gavel."
And you can't definitively declare that an anti-gun bill is dead until Congress adjourns sine die.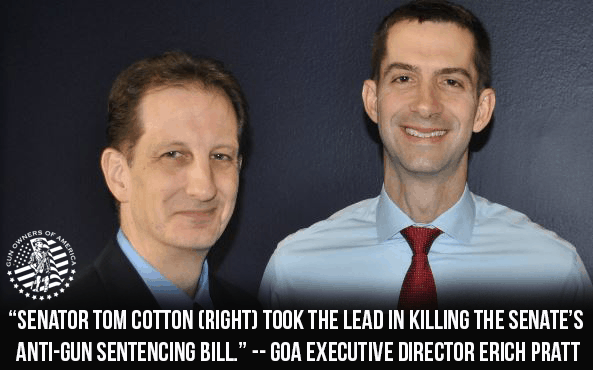 But we got some good news last week from Arkansas Senator Tom Cotton, our pro-gun champion who is leading the fight to kill the anti-gun sentencing bill. 
Speaking Thursday to the Hudson Institute, Sen. Cotton declared that efforts to pass the anti-gun bill in the Senate (S. 2123) were "dead" for the year. 
Cotton explained that many lawmakers think releasing more people from prison will increase crime rates across the country. 
Said Sen. Cotton:  
It's deeply divisive within the Senate and the House as well, in part because there are a large number of senators and congressmen who do not think criminals are victims; they think criminals are criminals. …  Not many senators or congressmen want to be responsible for the murder or rape of innocent civilians out on the street.
You Prevented Obama from Achieving "Legacy Status"
S. 2123 — and its companion bill the House, H.R. 3713 — were supposed to be one of Barack Obama's lasting "legacies." 
Yet, rather than making concessions to conservatives, the original bill would have increased, by 50%, maximum penalties for veterans with guns in the house — or semi-auto owners whose guns malfunctioned, firing in short bursts.  
This bill would increase sentences on honest gun owners, while throwing many hardened criminals onto the street.
The presumptive Republican presidential nominee, Donald Trump, understands this.  He blasted this bill on Friday, saying that:
President Obama pushed [and failed] for changes to sentencing laws that [would have] released thousands of dangerous drug trafficking felons and gang members that prey on civilians.
These were just some of the many problems with the bill.
But perhaps the final straw was the realization that Obama intended to register the released drug traffickers as "Hillary voters" — helping to tilt the narrowly contested race for the White House between Donald Trump and gun-confiscating Hillary Clinton. 
So please take these two action items:
(1) Thank Senator Tom Cotton for taking the lead in killing the anti-gun sentencing bill.  And thank Senator John Boozman for consistently refusing to cosponsor this anti-gun legislation, even when many of his Republican counterparts had encouraged him to do so.
(2) Please chip in $10 or $20 to help GOA make sure this bill stays dead.
As I alluded to earlier:  Any bill can be resurrected at any time, prior to the end of the legislative session.
So even though the bill is on its deathbed right now, they need to hear you want it to stay dead.
Thanks so much for all of your activism!
In Liberty,
Erich Pratt
Executive Director
Gun Owners of America
P.S. Thank Senator Tom Cotton — and John Boozman — for their opposition to the anti-gun sentencing bill.  And please chip in $10 or $20 to help Gun Owners of America ensure this bill remains dead.