Is Your Rep. Still Refusing to Support Constitutional Carry?
Written by admin
Published: 27 May 2016
Tell your Representative to Stand Up for Gun Rights!


Click on the Take Action button to send Representatives a message, encouraging them to cosponsor the REAL PRO-GUN reciprocity bill (H.R. 923).


---
Not a GOA member yet?  You can join Gun Owners of America today for only $20!
---
Urge Your Representative to Cosponsor H.R. 923
The move to pass national concealed carry reciprocity stalled in the House of Representatives recently.
Reportedly, the bill was temporarily shelved because of opposition from House Speaker Paul Ryan and Majority Leader Kevin McCarthy.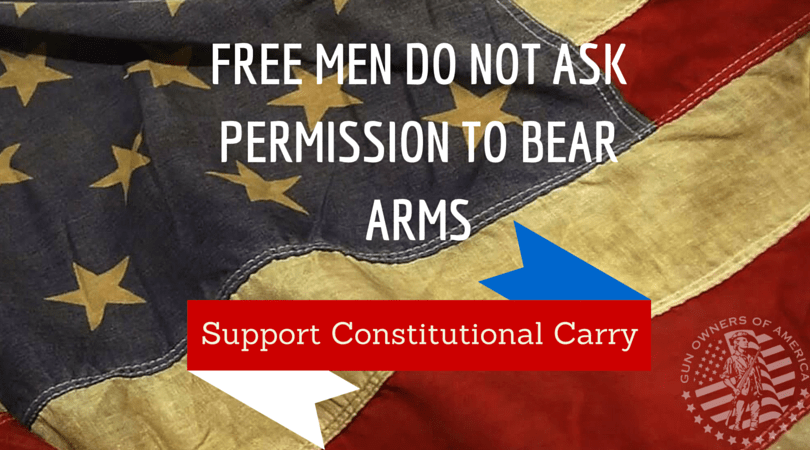 These two Republican leaders only want to grant national concealed carry reciprocity to more liberal states like New York and California, but not to most residents of the 11 most pro-gun states. 
But there are still several dozen Congressmen who don't seem to think that citizens like you should be able to exercise their constitutionally-protected rights without getting permission from a bureaucrat.
These Representatives have steadfastly REFUSED to cosponsor the Constitutional Carry reciprocity bill that would enshrine the Second Amendment right to keep and bear arms.
If we can get more Representatives to cosponsor this Constitutional Carry reciprocity bill (H.R. 923), then the leadership will be forced to protect gun owners from permitless carry states.
Urge Representatives to Cosponsor H.R. 923
H.R. 923, introduced by Rep. Marlin Stutzman, would protect the growing number of Constitutional Carry states, where residents can carry as a matter of right, without getting permission from the government.
Constitutional Carry is spreading across the country.  In 2000, there was only one permitless carry state — Vermont.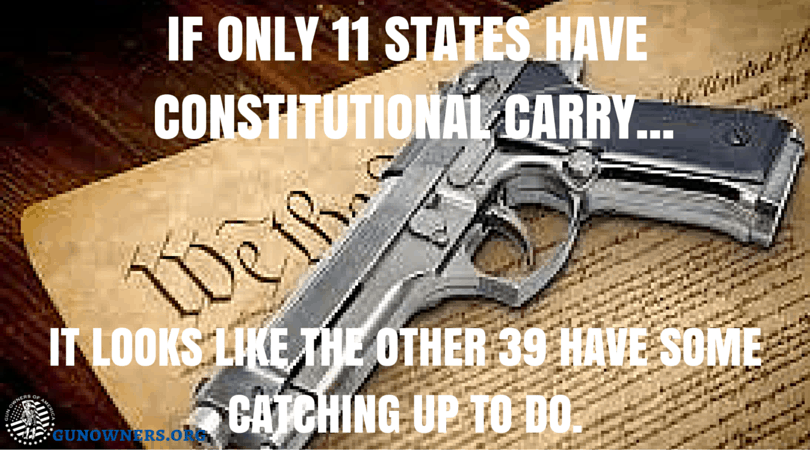 But today, more than one-fifth of the country has Constitutional Carry.  And more states are expected to soon follow.
Consider that state legislators have introduced permitless carry bills in states like Ohio, Pennsylvania and Virginia.  
It's only a matter of time before these states join the "Constitutional Carry" Club.
Just as "Shall Issue" concealed carry legislation swept the nation in the 1990s and 2000s, we are now witnessing the next generation of carry laws — aka, Constitutional Carry — become law in state after state.
So it is imperative that Congress doesn't pass a reciprocity bill that shuts out the freedom-loving residents from permitless carry states.
This is why the Senate has voted twice on its version of Congressman Marlin Stutzman's national reciprocity bill.
The Senate version also recognizes the right of people from Constitutional Carry states to carry nationally, by simply showing a photo identification issued by their home state. 
Urge Representatives to Cosponsor H.R. 923
Sadly, several Representatives are only supporting Congressman Richard Hudson's bill, H.R. 986. 
Under this plan, if a gun owner has a concealed carry license from a liberal state like New York, they can use that license to carry anywhere in the country.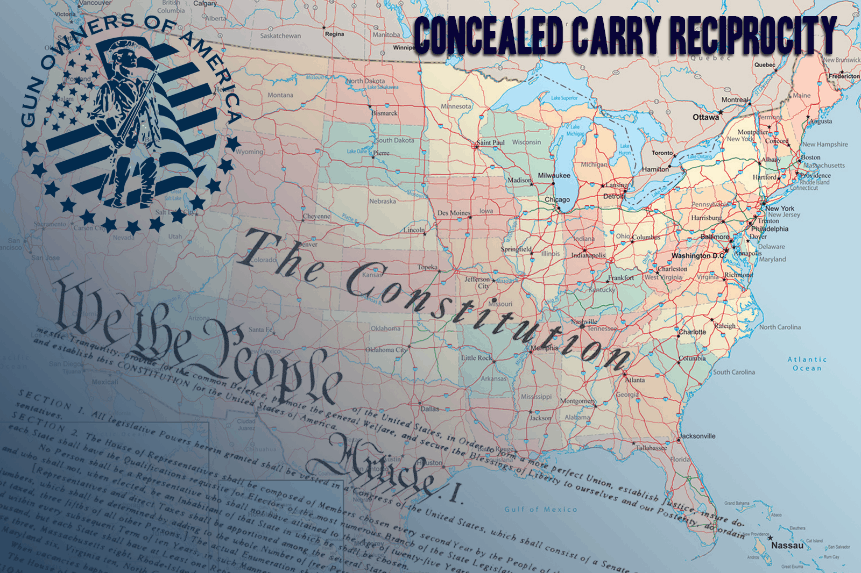 But if a person comes from a pro-gun Constitutional Carry state, they are out of luck under H.R. 986 unless they seek permission to carry concealed and get registered like a sex offender.
Make no mistake about it: It is an important first step that your congressman cosponsored the weaker version of national reciprocity, which benefits residents of the more anti-gun states, but not pro-gun ones. 
But your congressman may be under the misimpression that he can satisfy both the gun owners and the House leadership at the same time. 
The House leadership will tolerate the Hudson bill, because it forces all gun owners to get registered.  But they will NOT tolerate the Stutzman language (H.R. 923) which promotes FREEDOM as the Founders' envisioned.
Urge Representatives to Cosponsor H.R. 923
So we must send a STRONG MESSAGE to the Republican leadership that gun owners want Constitutional Carry — and we do that by getting more cosponsors on H.R. 923.
That way, if the Hudson bill ever reaches the floor of the House, the leadership knows gun owners want the Stutzman language to be added to protect pro-gun Constitutional Carry states as well. 
Otherwise, the primary impact of any reciprocity bill would be to discourage additional states from jumping on the "constitutional carry bandwagon."