Gabby Giffords says she will spend "what it takes" for him to win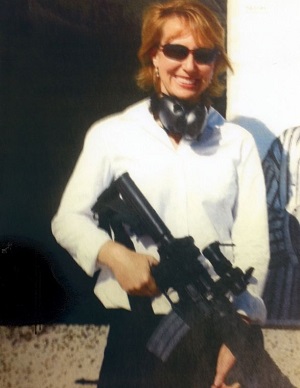 First, there was anti-gun billionaire Michael Bloomberg.
Now there's Gabby Giffords -- the former Arizona congresswoman who was tragically shot in 2011, but then later founded an anti-gun group.
Giffords wants to pour hundreds of thousands of her organization's dollars into the Virginia gubernatorial campaign.
But why would Giffords and New York City Mayor Bloomberg be so interested in this race?
Quite simply, because the leading two candidates couldn't be further apart on the Second Amendment.
Sitting Attorney General Ken Cuccinelli has spent over a decade in public service, working to defend the rights of gun owners.  In fact, that's exactly what Giffords doesn't like about Cuccinelli.
You can help counter Giffords' Big Bucks by giving Ken a generous contribution here!
In a recent Politico article, Giffords said that her group's opposition to Cuccinelli stems from his "record on guns."
Specifically, Cuccinelli has opposed banning the private sales of firearms -- unless they first go through a government registration check -- and he has worked to repeal "restrictions on the purchasing and carrying of firearms in locations including bars and restaurants."
Terry McAuliffe, on the other hand, supports a whole host of gun control restrictions, including:
* A ban on private sales of firearms (absent a government background registration check).
* A ban on the Internet "mail order" sales of firearms.
* A ban on various semi-automatic firearms.
* A limitation on magazines.
* A one-gun-a-month ban, and much more.
According to Politico, Cuccinelli is a few points behind, which means that the Libertarian candidate in the race could end up throwing the victory to McAuliffe.
You can volunteer to help get Ken elected by going here.
Quite frankly, the Tea Party has demonstrated how to make a positive impact upon the political process.  The way you do it is by running your candidate in the primaries.
For example, GOA's Political Victory Fund -- as well as Tea Party activists -- helped Texas Republican Ted Cruz win his primary (and eventually, the general election) in 2012.
Yes, that's the very Senator Cruz who recently spearheaded a pseudo-filibuster of the anti-gun ObamaCare law and who has emerged as one of the leading Second Amendment champions in the country.
But in 2012, Cruz was running for the Senate against both a Democrat and a third party candidate -- the latter being a candidate who was also good on guns.
Had we thrown our support behind the third party candidate, we would have missed a chance to help elect the number one champion on gun rights in the U.S. Senate right now -- and we could have, inadvertently, helped to elect the anti-gun Democrat that was running in that race.
We're facing that very same dilemma in Virginia right now.  The polls show that the election is very close.
Ken Cuccinelli is a PROVEN leader for gun rights.  McAuliffe has promised you that he will ignore the Constitution to advance his anti-gun agenda and take away your guns.
So please volunteer to help get Ken elected.
And if a contribution is the only help you can give now, then please give generously to Ken's campaign.
There's less than a month before the election.  Every day is critical.
And as always, please plan to get you and your pro-gun family and friends to the polls on Tuesday, November 5.
I thank you for your help and time!
Sincerely,
Tim Macy
Vice-Chairman