Vote Joshua Hawley for Attorney
Written by Tim Macy
Published: 14 July 2016
Defend the Second Amendment – Vote Joshua Hawley for Attorney General in Missouri!
Gun Owners of America Political Victory Fund is proud to endorse Joshua Hawley for Attorney General in Missouri.
President Obama, Hillary Clinton, and the anti-gun left are doing everything they can to impose Washington, D.C. style politics on the states.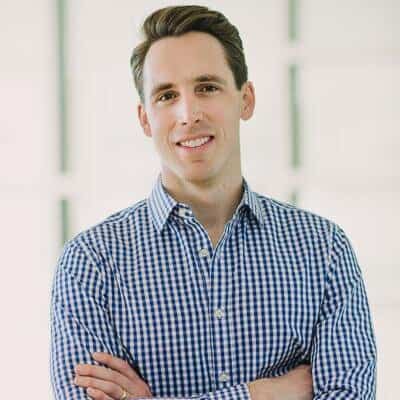 This includes using federal overreach to enforce unconstitutional restrictions on the Second Amendment rights of law-abiding Americans.
State Attorneys General are the frontline defenders against federal overreach.
That's why it is critical for the states to fight back and elect leaders who will embrace the 10th Amendment and defend our way life from D.C. insiders.
Joshua Hawley is one of those leaders.
A native of Missouri and current law professor at the University of Missouri, Joshua Hawley is an experienced lawyer and legal expert, having argued cases before the U.S. Supreme Court and winning!
He is an expert in constitutional law, and he understands why supporting and defending the Second Amendment is so critical to keeping our nation free and prosperous.
"The Second Amendment clearly and unequivocally protects the right of individuals to keep and bear arms. Plain and simple. As Attorney General I will fight all encroachment from the federal government or state bureaucrats on Missourians' right to keep and bear arms."
This is the kind of bold stance we want all our elected leaders taking!
Joshua has filled out our detailed candidate questionnaire earning a perfect "A" rating, and he will continue as a no-compromise warrior for the U.S. Constitution.
As a gun owner and a hunter, Joshua Hawley doesn't just talk-the-talk, he walks-the-walk when it comes to protecting your right to keep and bear arms.
Together we will send a clear message to Washington, D.C.: stay out of Missouri politics and keep your hands off of the Second Amendment!
So please take action to defend your gun rights.
Volunteer for Joshua Hawley.  Donate to his campaign.  And most importantly, make sure you and all your friends vote for Joshua Hawley this August in the primary.
Sincerely,
Tim Macy
Chairman
Gun Owners of America
---
Paid for by Gun Owners of America Political Victory Fund.
www.goapvf.org
Not authorized by any candidate or candidate's committee.
---
Featured GOA News & Updates