Contact Gov. Hassan One Last Time! — Constitutional Carry will be on her desk today or tomorrow
Written by Gun Owners of America
Published: 29 June 2015
As we have alerted you before, a Constitutional Carry Bill, SB 116, has passed both the House and Senate in New Hampshire, and is on its way to the Governor's desk.
In fact, the bill is reportedly being delivered to her office today or tomorrow.
SB 116 would eliminate unconstitutional carry permits and restore FULL Second Amendment carry rights in the Granite State.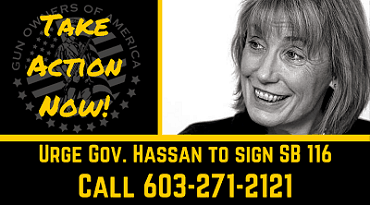 This is where your activism is key. It is critical that you contact Governor Maggie Hassan and tell her to sign SB 116 into law. Please do so, even if you have already communicated with her in the past month.
Yes, we realize that Gov. Hassan is anti-gun. But one legislator in the state has told GOA there is a slim possibility that the Governor might let the bill become law (without signing or vetoing it). If so, this just underscores how important it is for us to swamp her office with phone calls and faxes.
It's now the last hour. It's time for calls and faxes. Let's swamp her office one last time!
ACTION: Please use the talking points below to urge Governor Hassan to sign SB 116 into law! If you are a registered voter, please mention that as well!
CONTACT INFORMATION:
PH: 603-271-2121
FAX: 603-271-7640
TALKING POINTS:
1. There are already seven other states that allow for constitutional carry, and they are seven of the safest states in the country. One of those states is Alaska, which passed its Constitutional Carry law in 2003 and has seen its murder rate drop 20 percent in the ensuing 10 years (according to FBI statistics). Another one of those states is neighboring Vermont, which is frequently ranked as the Safest State in the Union!
2. The state police in the neighboring state of Maine wholeheartedly support constitutional carry. In fact, over 90% of police nationwide support the principle of concealed carry for law-abiding citizens, according to a PoliceOne.com survey taken in 2013.
3. The permitting system in New Hampshire is part of a racist past, where licensing was used as a mechanism to keep "unsuitable" people (such as black Americans and foreign born persons) from legally carrying firearms. Ask her why she would want to keep such a racist law on the books.
4. Finally, it's important that Gov. Hassan realize this bill will not let criminals carry guns. They already carry guns illegally!
Featured GOA News & Updates