Defensive Gun Use of the Day: AZ Open Carrier Shoots, Kills Armed Felon
Written by Dean Weingarten
Published: 16 August 2016
Defensive Gun Use of the Day: AZ Open Carrier Shoots, Kills Armed Felon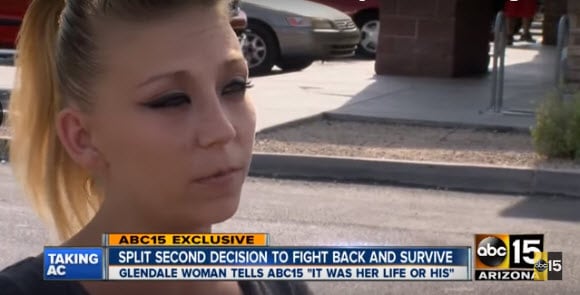 Carolann Miracle was open carrying in the early morning hours of August 1. The 4-feet, 11-inch, 85-pound Arizonan was leaving a gas station with a drink in her hand and a GLOCK on her hip. 
From abc15.com:
Miracle said she was leaving the Circle K near 59th Avenue and Camelback Road with her family early Monday morning when the suspect, Frank Taylor, tried to bum a cigarette. She told him that she didn't have one, and then seconds later, Miracle said, she could feel the barrel of the gun against her skin.
"He put the gun up to my neck and said, 'It's loaded, don't move,'" Miracle said. "I think he thought, 'She's a little girl. Maybe she doesn't know how to use her weapon.'"
Miracle said, "I dropped my soda, released my gun from my holster and cocked it. I shot him and ran in the opposite direction."
Miracle's father was a Marine. He apparently taught her well. The pistol appears to be a GLOCK model 17 or 22, with night sights.
Featured GOA News & Updates