Virginia's One Handgun a Month Law (Almost) Gone!
Written by Gun Owners of America
Published: 08 February 2012
Virginia is one step away from repealing its onerous one-gun-a-month law.
This week, the Virginia State Senate voted to repeal the Old Dominion's two-decade old law restricting handgun purchases to one per month.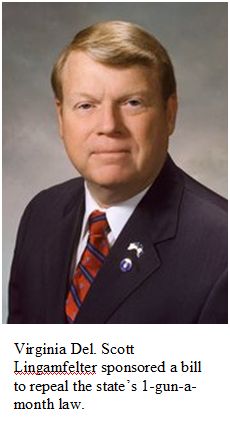 The Senate vote, a close 21-19 win, follows passage by the House of Delegates. The bill now goes to Gov. Bob McDonnell's desk.
Though McDonnell voted in favor of the bill in 1993, he has pledged to sign the repeal. The law would take effect on July 1.
While the Governor has pledged to sign the bill, we shouldn't take anything for granted. Messages encouraging McDonnell to follow through and make the repeal a reality can be sent by clicking here. (Link no longer active)
Gun Owners of America also would like to thank the bill's sponsors, Sen. Charles Carrico (R-Grayson) and Del. Scott Lingamfelter (R-Prince William) for their efforts.
The two members of the General Assembly can be reached by email at [email protected] (Sen. Carrico) and DelSLingam[email protected] if you would like to send them a note.
Thank you for your activism and for your support of GOA.
Featured GOA News & Updates