One year later: Will Midland-Odessa shooting spur changes to background check laws?
Written by Eleanor Dearman, El Paso Times
Published: 07 September 2020
A year after her brother became one of the victims of a Midland-Odessa shooting rampage, Carla Byrne is still waiting for stricter background checks on the purchase of guns.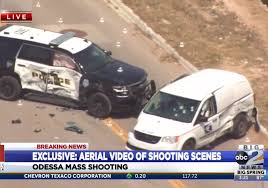 Texas officials have said the man who killed her brother and six others in the August 2019 mass shooting obtained the weapon through a private sale, despite having previously failed a background check.
"My brother (Joseph Griffith) had a life that was stolen from him, but I know with 100% certainty that I cannot … sit idly by and just be sad," Byrne said. "I can't watch on the news any more kids being killed in schools. Any more people being slaughtered in churches and synagogues."
Byrne is part of a coalition of people across the state calling for stricter gun laws in the aftermath of mass shootings, including the one in Midland-Odessa a year ago. The push is sure to face an uphill climb in Texas, which has resisted gun restrictions in the past.
On Aug. 31, 2019, a gunman went on a rampage that started on Interstate 20 between Odessa and Midland after a traffic stop and continued for more than 10 miles…
In the aftermath of the shooting, and the mass shooting weeks before in El Paso, there were calls for action from Texas leadership. Roundtables were held and committees created for discussions on how to address mass shootings.
Abbott also issued a series of executive orders that, among other things, focus on bringing suspicious activity reports to the attention of law enforcement.
But in the past year, little has been done in the way of advancing laws related to gun violence, despite calls for a special session of the Legislature.
"The fact is that no law can pass unless the Legislature's in session, and the governor is the only one who can call a special session," said Gyl Switzer, executive director of firearm safety group Texas Gun Sense.
Switzer is hopeful for new laws when the Legislature convenes in January.
"I did see some light bulbs go off of legislators thinking, 'Oh that makes sense,'" Switzer said of the House and Senate committees formed to address mass violence. "I think people realized that there were some … common-sense legislation that doesn't infringe on anybody's rights about guns, that can save lives."
While some are pushing for stricter gun laws, for Rachel Malone, Texas director of Gun Owners of America, it's important people be able to carry a firearm for self-defense.
The Legislature "cannot control the actions of people who are determined to break the law," Malone said.
"What the Texas Legislature should be focused on is encouraging and enabling honest Texans to be able to defend themselves," Malone said.
Asked about the idea of "stranger-to-stranger" background checks, Malone said it's an example of a law that's proposed to keep criminals from getting guns. But criminals will find other means of obtaining weapons, she said. Malone also expressed concerns about people mistakenly being denied the ability to purchase a gun.
Read more at Stephenville Empire-Tribune
Featured GOA News & Updates