'NO ONE WANTS TO TAKE OUR GUNS'? OH, REALLY?
Written by Larry Elder
Published: 11 October 2017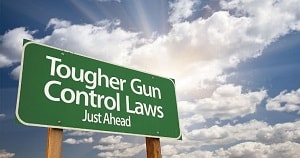 Almost immediately after the Las Vegas shooting came the calls for "common-sense" gun control. The quest almost always begins with a reassurance that "no one wants to take away your guns."
Not everyone read the memo.
Nelson Shields, founder of Handgun Control Inc., the organization that became the Brady Campaign to Prevent Gun Violence, in a 1976 interview could not have been more clear about his group's goals: "Our ultimate goal – total control of handguns in the United States – is going to take time. My estimate is from seven to 10 years. The first problem is to slow down the increasing number of handguns being produced and sold in this country. The second problem is to get handguns registered. And the final problem is to make the possession of all handguns and all handgun ammunition – except for the military, policemen, licensed security guards, licensed sporting clubs and licensed gun collectors – totally illegal."
In 1993, a Los Angeles Times editorial called for the repeal of the Second Amendment: "You will not feel safe, your children will not be safe, until there are almost no guns on the streets and in homes. No guns, period, except for those held by law enforcement officers and a few others, including qualified hunters and collectors. … We must, as a nation, move toward a very different model, one that presumptively bars private citizens from owning a firearm unless they can demonstrate a special need and ability to do so. … We think the time has come for Americans to tell the truth about guns. They are not for us; we cannot handle them. They kill people, our children included. It's time to get rid of them. Period."
Fast-forward to the Las Vegas shooting. The Washington Post columnist Eugene Robinson calls for a gun "buyback": "A real gun debate has to look at that fact: 300 million guns. And we need, you know, to look at what was done in a place like Australia, where they had a gun buyback. And gun control is permissible, according to the Supreme Court. And so if Congress were to decide – it won't happen – were to decide that automatic assault rifles, long guns … (and) military-style weapons are something that citizens should not have, they should be police and military only, and we're going to buy them back, that would have an impact. … And that's what the debate ought to be."