Merrick Garland has 'very liberal view of gun rights'
Written by David Sherfinski and Dave Boyer
Published: 15 March 2016
Merrick Garland has 'very liberal view of gun rights'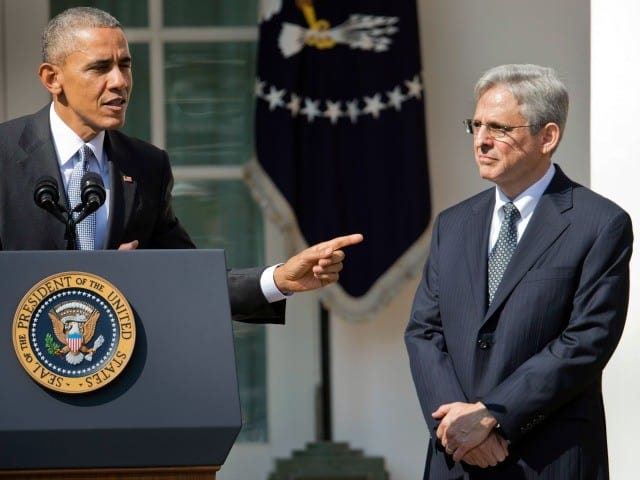 ---
"He supported the D.C. gun ban in 2007, thereby showing he opposes self-defense and opposes the right to keep and bear arms," Erich Pratt said.
---
Merrick Garland has 'very liberal view of gun rights'
President Obama tried to tap a moderate to fill the seat of the late Supreme Court Justice Antonin Scalia, but he ended up picking a fight with powerful Second Amendment groups that say Judge Merrick Garland has shown antipathy toward gun rights.
In one 2000 case, Judge Garland, who sits on the U.S. Circuit Court of Appeals for the District of Columbia, upheld a Clinton administration effort to store gun-buyers' records.Later in the decade, he joined other judges in a failed bid to reconsider the landmark case that would eventually establish the Second Amendment's protection of a personal right to bear arms.
"This is probably the most anti-gun Supreme Court nomination in decades," said Brian Rogers, executive director of America Rising Squared, a conservative group conducting opposition research on Judge Garland.
Judge Garland was appointed to the D.C. circuit in 1997 after surviving a contentious Senate fight that centered more on whether that court needed another judge than on whether he was the right pick.
Now, Judge Garland faces a similar fight. Republican senators say the Supreme Court can operate with eight justices until next year, when voters will have had a chance to choose the president whom they want to make the pick.
In the meantime, conservative groups have begun poring over Judge Garland's 19-year record on the D.C. court and say even in the early stages of vetting, his association with Mr. Obama means he likely will take decidedly liberal views on issues such as abortion, the environment and executive authority.
"We do not know this nominee, but we do know Barack Obama," said Marjorie Dannenfelser, president of the pro-life Susan B. Anthony List. "Anyone he nominates will join the voting bloc on the court that consistently upholds abortion on demand."
Sen. Ted Cruz of Texas, a Republican presidential candidate, said Judge Garland is the kind of nominee people get "when you make deals in Washington, D.C."
"Make no mistake: If Garland were confirmed, he would side predictably with President Obama on critical issues such as undermining the Second Amendment, legalizing partial-birth abortion and propping up overreaching bureaucratic agencies like the EPA and the IRS," Mr. Cruz said.
For many groups, the association with Mr. Obama alone was enough to tarnish Judge Garland's nomination.
"President Obama has nothing but contempt for the Second Amendment and law-abiding gun owners," said Chris W. Cox, executive director of the National Rifle Association's Institute for Legislative Action. "Obama has already nominated two Supreme Court justices who oppose the right to own firearms, and there is absolutely no reason to think he has changed his approach this time."
Erich Pratt, executive director of the group Gun Owners of America, said Mr. Obama chose a "radical leftist" in Judge Garland despite promises to nominate a consensus candidate.
"He supported the D.C. gun ban in 2007, thereby showing he opposes self-defense and opposes the right to keep and bear arms," Mr. Pratt said.
That 2007 case, Parker v. District of Columbia, ultimately became the landmark Supreme Court case District of Columbia v. Heller. Before it reached the high court, it was heard in Judge Garland's circuit, and a three-judge panel ruled that the D.C. handgun ban was unconstitutional. Judge Garland wasn't part of that decision, but he did join three other judges in trying to have the full court get a chance to overturn the ruling.
Carrie Severino, chief counsel and policy director for the Judicial Crisis Network, a conservative advocacy group, concluded in a recent piece for National Review that the 2007 vote means Judge Garland would ultimately support overturning the Supreme Court's Heller decision and that he has a "very liberal view of gun rights." Ms. Severino's group has pledged a $2 million advertising campaign to oppose Mr. Obama's nominee.
Republican senators had already decided to block the nomination process, citing election-year precedent in saying the next president should be the one to fill the vacancy.
The offices of several pro-gun Democrats did not offer a comment on Judge Garland's record.
But House Republicans said the judge's gun record must be part of any debate.
"In 2007, Garland tried to inflict one of the most restrictive gun laws in the country, ignoring the Second Amendment rights for residents of the District of Columbia," said Rep. John Fleming, a Louisiana Republican who is running for the U.S. Senate this year.
Rep. Blake Farenthold, Texas Republican, also said he hopes the Senate "takes a strong stand against a nominee that has shown he is no friend to the Constitution and no friend to the right to keep and bear arms."
Conservatives are also pointing to a 2000 case in which Mr. Garland was part of a 2-1 panel that voted to uphold a Clinton administration policy of retaining certain gun transaction records in the National Instant Criminal Background Check System for six months. Conservatives argued that the records retention ran counter to rules against gun registries in the Gun Control Act of 1968 and a 1993 law that created the system.
That decision, Mr. Pratt said, shows that Mr. Garland is "anti-gun" and that "he supports the ability of a president to illegally use executive power to advance liberal causes."
The reliance on executive actions has come to define much of Mr. Obama's legacy, as he has been roundly criticized for going around Congress and acting unilaterally on issues such as gun rights, immigration and climate change.
Featured GOA News & Updates