Gun Groups Refuse to Participate in Obama's Town Hall on Guns
Written by Todd Beamon of NewsMax
Published: 07 January 2016
Gun Groups Refuse to Participate in Obama's Town Hall on Guns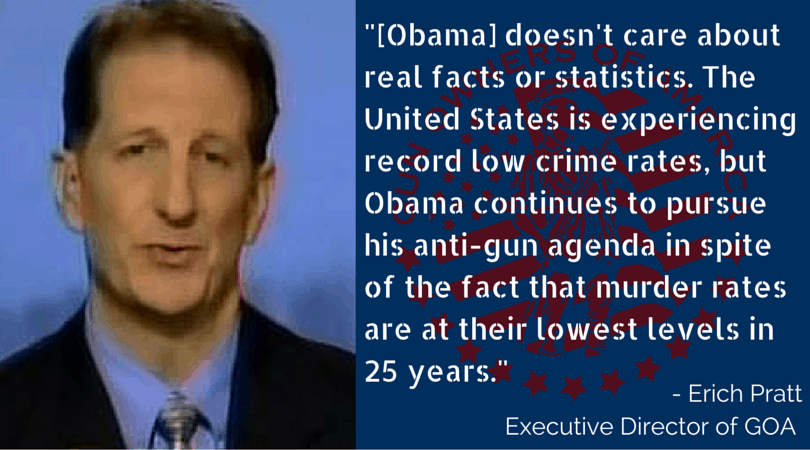 ---
"He doesn't care about real facts or statistics. The United States is experiencing record low crime rates, but Obama continues to pursue his anti-gun agenda in spite of the fact that murder rates are at their lowest levels in 25 years." – Erich Pratt, Executive Director of GOA to NewsMax – January 1, 2016
---
Gun Groups Refuse to Participate in Obama's Town Hall on Guns
The National Rifle Association said Thursday that it would not participate in President Barack Obama's town hall meeting on gun safety.
"The National Rifle Association sees no reason to participate in a public-relations spectacle orchestrated by the White House," spokesman Andrew Arulanandam told Newsmax in a statement.
The event, to be moderated by CNN, follows Obama's moves on Tuesday to tighten federal background checks for gun sales, require gun sellers to be licensed or face criminal prosecution, and to expand mental health treatment.
Wayne LaPierre, NRA's executive vice president, slammed the president's actions and attacked politicians for refusing to implement such "common-sense gun laws" as strengthening the national background checks system and arming school security guards.
The Gun Owners of America declined to participate in the town hall because "there is no reasoning with the president," Executive Director Erich Pratt told Newsmax.
"He doesn't care about real facts or statistics," he said. "The United States is experiencing record low crime rates, but Obama continues to pursue his anti-gun agenda in spite of the fact that murder rates are at their lowest levels in 25 years."
Featured GOA News & Updates