Georgia Day of Action this Saturday
Written by Jordan Stein
Published: 07 December 2020
Step Up and Save the Second Amendment
The Stakes Have Never Been this High
As you know, the importance of the Georgia runoff elections goes far beyond who will represent the Peach State in the Senate; it will determine the balance of power in Washington DC and whether there will be any sort of firewall to stop the radical, anti-gun Left's agenda.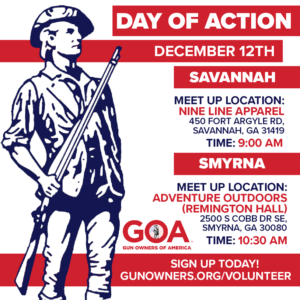 If the anti-gun Democrats control all the levers of power in DC, we know they will:
Pack the Supreme Court with anti-gun, activist judges
Give statehood to DC and Puerto Rico to cement anti-gun majorities in the Senate forever
Eliminate the Filibuster and pass extreme gun control measures
That's what's at stake in these runoff elections. And that's why GOA has gone all in on reaching voters in the Peach State.
When the media appointed Joe Biden as president, I decided I would leave nothing on the table in the Georgia runoff elections. That's why I hope you'll join me in voter outreach efforts like knocking on doors to ensure a pro-gun majority in Congress.
Please make plans to attend at a location near you to be trained and get materials for door knocking. GOA representatives will be at each location for training on how to knock doors. No experience required!
NOTE: It is important to RSVP HERE before participating in the Day of Action. We need you to sign up so we can create an account for you to use in our door knocking system. You will be contacted with further information in the use of the system.
December 12th Day of Action
Savannah  
Meet Up Location: Nine Line Apparel — 450 Fort Argyle Rd, Savannah, GA 31419
Time: 9 AM
Smyrna 
Meet Up Location: Adventure Outdoors (Remington Hall) — 2500 S Cobb Dr SE, Smyrna, GA 30080
Time: 10:30 AM
I know for a fact that anti-gunners are working overtime to defeat the pro-gun Loeffler and Perdue. As gun owners and Second Amendment supporters, we must work that much harder to retain the rights we cherish so much.
The Second Amendment is worth fighting for. It's time to step up.
PS. If you live in Georgia, don't forget to vote! Early Voting begins December 14th and Election Day is January 5th.
PPS. GOA appreciates both Adventure Outdoors and Nine Line Apparel for allowing the use of their facilities as a meetup location. Please patronize these businesses if you can.
Featured GOA News & Updates