Obama Executive Order Boosts Protections for Employees of Gun Owners' Least Favorite Agency
Written by Fred Lucas
Published: 04 October 2014
President Barack Obama issued an executive order Friday to provide added protections to employees of the Bureau of Alcohol, Tobacco, Firearms and Explosives, one of the most scandal-plagued agencies in the federal government in recent years.
The order allows more ATF agents to be converted to the career-employee classification, which would provide civil service protections that make it more difficult to fire such an employee. For an agency that has been accused of going rogue at times, with Operation Fast and Furious and more recently Fearless Distribution, that could be a problem.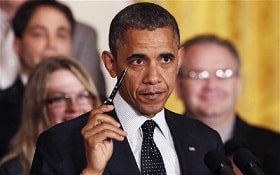 The ATF has also stepped up efforts requiring gun shops to get the race and ethnicity information of gun buyers.
"Bottom line is that it's easier to fire people when they don't have civil service protections," Gun Owners of America spokesman Erich Pratt told TheBlaze. "We'd love nothing more than to see a future Ted Cruz or Rand Paul administration fire some of these ATF special agents who are intimidating legal gun dealers."…
Pratt pointed out that controversies surrounding the agency go back decades.
"Given that this is an agency that has bathed itself in disgrace, the last thing you want to do is make it harder to fire them and put them in the civil service nightmare system," Pratt said. "We'd like to see the agency defunded. But if the agency is going to be there, we'd like to see it cleaned up, not keep the people who have caused the problems there locked in."
[readon2 url="http://www.theblaze.com/stories/2014/10/04/obama-executive-order-boosts-protections-for-employees-of-gun-owners-least-favorite-agency/"]Read the rest at The Blaze[/readon2]
Featured GOA News & Updates