Hillary Clinton Blames Las Vegas Attack on Gun Groups
Written by AWR Hawkins, Breitbart
Published: 02 October 2017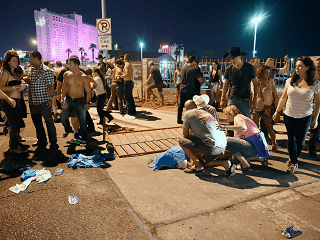 Hours after a gunman opened fire on people at a concert, shooting from the thirty-second floor of the Mandalay Bay Hotel, Hillary Clinton called for Americans "to stand up to the NRA" as a way of preventing another attack.
Breitbart News reported the attack occurred while country music singer Jason Aldean was playing. The Las Vegas Metropolitan Police Department (LVMPD) identified the attacker as 64-year-old Stephen Craig Paddock. He opened fire on concert-goers from an elevated position, the 32nd floor of the Mandalay Bay Hotel, and was found dead in his hotel room when LVMPD SWAT members burst inside:
Click here to see more 2A articles like this one.
Clinton tweeted:
Featured GOA News & Updates