Henry Repeating Arms Donates $25K to Further No Compromise Mission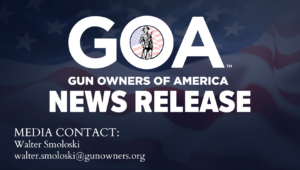 FOR IMMEDIATE RELEASE
Washington, D.C. – Henry Repeating Arms, the leading lever action rifle manufacturer and one of the top-five, long gun manufacturers in the United States, has just announced a formal partnership with Gun Owners of America at SHOT Show in Las Vegas, Nevada. Henry, with their famous "Made in America, Or Not Made At All" slogan, are a household name in the firearms industry, and their commitment to charitable organizations in the outdoors and Second Amendment community runs deep.
Erich Pratt, GOA's Senior Vice President, issued the following statement:    
"We are so excited to formally partner with Henry Repeating Arms, and thank them for their commitment to helping advance the "No Compromise Alliance's" agenda. We urge our members to support them, and all of our industry partners, for their commitment to helping restore the Second Amendment rights of all Americans." 
Sam Paredes, on behalf of the board of GOA, added:  
"At a time when our rights are under assault from the most anti-gun administration in our nation's history, we couldn't be more grateful to Henry's leadership team for joining us in the fight. GOA and GOF will continue to lead with the support of our industry partners as we work to restore the rights that guard American liberty."  
GOA spokesmen are available for interviews.  Gun Owners of America is a nonprofit grassroots lobbying organization dedicated to protecting the right to keep and bear arms without compromise. GOA represents over two million members and activists. For more information, visit GOA's Press Center.