Gun Control: Six Ways Nancy Pelosi Aims to Take Away Firearm Freedoms
Written by AWR Hawkins, Breitbart
Published: 15 October 2018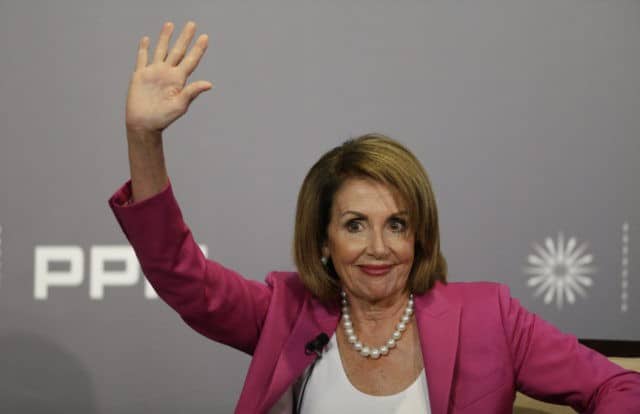 House Minority Leader Nancy Pelosi (D-CA) believes securing gun control is more important than continuing to win elections and she supports numerous controls that will she undoubtedly pursue if Democrats gain control of the House.
The Washington Times reported that Pelosi reacted to the February 14, 2018, Parkland high school shooting by stressing that securing more gun control is a "higher [priority] than winning the next election." In other words, she expressed willingness to trade her political career for the opportunity to restrict Americans' Second Amendment rights.
Click here to see more 2A articles like this one.
Here are six gun controls Pelosi is certain to pursue if Democrats take control of Congress:
"Assault Weapons" Ban–Pelosi wants to ban commonly owned semiautomatic rifles. On March 4, 2018, Politico indicated that banning such firearms is part of Pelosi's long range goals… 
Universal Background Checks–Pelosi wants universal background checks, which is leftist-speak for outlawing private gun sales and criminalizing a neighbor who sells a gun to a lifelong neighbor without first getting government permission…
Dropping National Reciprocity Push–Roll Call reported that Pelosi and her fellow Democrats also responded to the Parkland high school shooting by trying to remove the push for national concealed carry reciprocity…
Dropping Hearing Protection Act–Following the October 1, 2017, Las Vegas shooting, in which 58 people were killed, Pelosi called for Republicans to drop legislation intended to remove suppressors from the purview of the National Firearms Act (1934)…
"Armor Piercing" Ammunition Controls–Pelosi  also pushed for controls on "armor piercing" ammunition following the Las Vegas shooting.
Gun Confiscation Laws–In the weeks after the May 18, 2018, attack on Sante High School (Texas), Pelosi pushed for "Gun Violence Restraining Orders."
Americans can expect these six gun controls, and many others, to be relentlessly pursued if voters do not show up November 6, 2018, and protect the pro-gun majority in Congress
Featured GOA News & Updates