Gun Buying Backlog Brings Calls to Change N.H. 'Gun Line' System
Written by Christopher Maidment, NH Journal
Published: 03 January 2021
In addition to the coronavirus, 2020 also saw a surge in gun sales, both here in New Hampshire and across the nation. As a result, Granite State would-be gun buyers face delays as the Department of Safety's background check body, known in the gun community as the "gun line," struggles to handle the call volume. Now, some Second Amendment supporters are calling for the gun line to be reformed, or even scrapped entirely.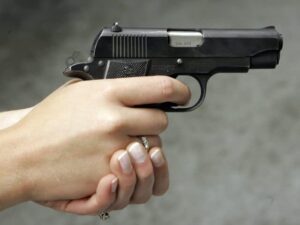 Nationwide, sales through November 2020 were up 41 percent year to year according to FBI data. The New Hampshire Department of Safety reports that since February call volume at the 'gun line' has nearly doubled from an average of 150-200 calls per day to 250-300.
New Hampshire is one of just nine states using a state agency to conduct some firearm sale background checks. Twelve states do all background checks at the state level, and the remaining 29 use the FBI to conduct the checks for them.
In New Hampshire, the sale of long guns goes through the FBI while all handgun and pistol sales are run through the state's 'gun line'.
A Department of Safety spokesman cites the increase in volume as a cause for delays, but says they have recently implemented policy changes to speed things up. "We anticipate faster turnaround times with the new policy, but it is still too early to quantify those results. The changes in the December 23 policy update aligns New Hampshire with the federal NICS (National Instant Criminal Background Check System) and FBI process," Paul Raymond Jr., the Department's Public Information Officer, tells NHJournal. He says the department performed more than 85,000 background checks last year. One thousand of them remain in delayed status, with one such delay dating back to April 2020.
Attorney Sean List says he drafted language for Senator Giuda and the proposal is something "every gun dealer in the state supports." List, who represents several federal firearms licensees and individuals with firearm relating issues throughout the state, tells NHJournal that the delays at the gun line "has come at a great cost to the economic wellbeing of dealers and the constitutional rights of firearm owners and purchasers."
In a recent news release, Alan Rice, state director for Gun Owners of America, said that "the governor can easily issue an executive order telling the state police to cease to conduct these checks. If that happens, by default, all checks will be conducted by the FBI." The New Hampshire Department of Safety acts as a point of contact for the federal government's NICS as allowed by state law.
"Gun owners will face fewer delays if they only have to clear one set of hurdles (at the federal level), as opposed to also forcing gun buyers to submit to state-mandated background checks, which then add another level of potential delays," says Rice.
Executive Councilor Dave Wheeler tells NHJournal the idea is a bad one. "The gun line has been a sore spot for gun owners all year, but with Republicans in charge, we can fix the problems permanently instead of giving more control to the federal government. We should be going the other direction, taking more control back from the feds," he says.
"There's no reason we shouldn't keep this in state. Gun policy and legislation should be decided here in the Granite State, not handed over to a Biden administration that has openly campaigned on taking away our Second Amendment rights," Wheeler says, adding he's been working with the Attorney General and Department of Safety to ensure the gun line works as intended with minimal delays.
Rice's call for an executive order may be backed up by legislation, NHJournal has learned. State Sen. Bob Giuda (R-Warren) introduced LSR 2021-0955, and while the text is not yet publicly available, sources say the bill will permanently hand over the gun line's duties to the federal government…
Read more at NH Journal
Featured GOA News & Updates