GOA Announces Partnership with Indiana Based Tippmann Arms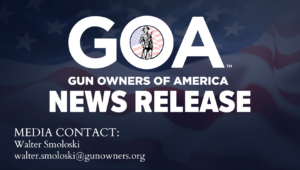 FOR IMMEDIATE RELEASE
Washington, D.C. – Today, Fort Wayne, Indiana based Tippmann Arms debuted their Gun Owners of America themed M4-22 Elite rifle. A portion of each sale will be donated to GOA's Second Amendment Preservation Fund and aid in their fight against the draconian ATF Pistol Brace Rule, which will force Americans to register or destroy their 40 million braced firearms.
Last week, GOA and Texas Attorney General Ken Paxton filed a lawsuit challenging the rule in federal court.
Kailey Nieman, GOA's Director of Development, issued the following statement:     
"Everyone understands the gravity of the situation when it comes to the fight to protect the Second Amendment. We are humbled by this partnership and the faith that Tippmann arms has in GOA." 
Chris Ley of Tippmann Arms added:   
"When the ATF released the new pistol brace rule it cut our product line in half. We wanted to partner with GOA and launch this special edition rifle in support of the no-compromise mission. We believe that they will succeed and look forward to playing a part in that success." 
GOA spokesmen are available for interviews.  Gun Owners of America is a nonprofit grassroots lobbying organization dedicated to protecting the right to keep and bear arms without compromise. GOA represents over two million members and activists. For more information, visit GOA's Press Center.