GOA and GOF File Brief in Challenge to University of Michigan Gun Ban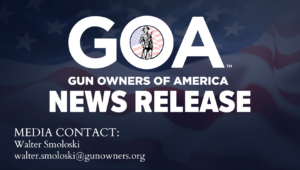 FOR IMMEDIATE RELEASE
Washington, D.C. – This past Thursday, Gun Owners of America (GOA) and the Gun Owners Foundation (GOF) filed an amicus brief in support of Joshua Wade in his challenge to the ban on firearms on campus at the University of Michigan. The case is currently under the consideration of the state's supreme court.
Mr. Wade, who holds a state issued concealed carry permit, had previously applied for an exemption to the current ban with the University's Director of Public Safety, which was denied. In turn, Mr. Wade challenged the University policy under the State of Michigan's preemption statute.
Erich Pratt, GOA's Senior Vice President, issued the following statement: 
"GOA has been on the front lines fighting to restore Second Amendment rights to college students across the country. Earlier this month we helped to get campus carry passed in West Virginia, and we hope that those watching this case in Michigan will recognize, especially in light of recent events, that students deserve the ability to defend themselves on-campus." 
Sam Paredes, on behalf of the board for GOF, added: 
"GOF is excited to lend our support to Mr. Wade in this case, as the state's preemption law does not permit public universities to enact these unconstitutional policies. As we have been saying since the Bruen decision, fall in line, or we will make you." 
GOA spokesmen are available for interviews.  Gun Owners of America is a nonprofit grassroots lobbying organization dedicated to protecting the right to keep and bear arms without compromise. GOA represents over two million members and activists. For more information, visit GOA's Press Center.