EXCLUSIVE: GOA Exposes ATF for Using Financial Info to Block Gun Purchases
Written by Emily Miller, Epoch Times
Published: 14 March 2023
The federal government has been using Americans' income and gun purchases to conduct warrantless tracking and deny Second Amendment rights. Agents from the Bureau of Alcohol, Tobacco, Firearms and Explosives (ATF) gave salary estimates to the Federal Bureau of Investigation (FBI) as the reason to have people's firearms purchases monitored.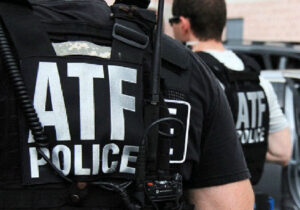 Erich Pratt, senior vice president of Gun Owners of America (GOA), told The Epoch Times that the ATF's activities "monitoring innocent people" is a serious problem. "Congress needs to rein in this rogue agency by either exercising oversight over it or abolishing the unconstitutional agency altogether," said Pratt.
These revelations come from new documents, viewed by The Epoch Times which it received from its Freedom of Information Act (FOIA) lawsuit. The latest production from the FOIA has hundreds of pages—many redacted—showing ATF agents requesting warrantless surveillance by the FBI for lawful reasons such as low salaries, past firearm purchases, and sending "bizarre" messages…
The Epoch Times exclusively reported in January about the FBI's secret monitoring service that tracks people by the National Instant Criminal Background Check System (NICS) for gun purchases for mere "potential violations of law."
Too Poor to Buy Guns
According to the documents, a man in Arizona was put into the NICS's daily monitoring because he has a "reported income" of only $2,839. The ATF agent wrote, "In my experience, someone with this amount of income would not be able to afford 20 firearms."
An Asian man in Texas was put on the manual background check because the ATF said he has "no work history" which "could possibly indicate" that he is "straw purchasing."…
Tracking Income
Gun rights activists say federal law enforcement is missing the mark.
"The poor usually live in areas with the most crime and thus have a strong need to arm themselves heavily," Pratt said. "So targeting the indigent is simply another avenue for gun grabbers to implement a backdoor gun ban."
ATF headquarters will not disclose how it acquired the other suspects' incomes, employment information, and past gun purchases found in the FOIA forms…
Buying Too Many Guns
A black man in Florida was monitored daily by the FBI for at least 90 days in 2020 because an ATF agent wrote: "Based on my training and experience, I have not seen a legal firearms purchaser purchase approximately 30 firearms in a 120-day window for their personal collection."
Licensed firearms dealers must report to ATF the sale of two or more handguns to the same purchaser within five consecutive business days. However, there is no federal law limiting the number of guns a person can buy.
"Some agent just decided that is enough Second Amendment for you this year," Robert Olson, the attorney who filed the FOIA lawsuit for the GOA, told The Epoch Times…
Too Many Gun Parts
In the secret documents, an ATF agent asked the FBI to flag a man in Arizona suspected of dealing parts of guns. "In my experience, it is common for people to purchase large number of AR-15 style lower receivers, build them into rifles, and sell the rifles for profit," the agent wrote to get the suspect put into NICS.
A "lower receiver" is the base part of an AR-style rifle which has a serial number on it. It cannot fire without a barrel, trigger, and other parts put on it.
"It is common for people to buy several lower receivers and build them into finished guns. If it's your hobby, that is not sufficient to prove you are illegally dealing firearms," said attorney Olson. "How does the agent distinguish between the Second Amendment enthusiast and the criminals?"…
ATF and FBI Unbowed
There are no instances of the FBI denying any ATF request to put a person under warrantless surveillance in all the documents released so far. Moreover, there are no documents showing the monitoring periods ended. As we previously reported, the FBI told the ATF that it will renew the NICS flags of 30 to 120 days and limitless times if requested.
"It's time for Congress to repeal the NICS check. Given that more than 95 percent of the initial stops are for mistaken identity, it is clear that NICS is not keeping guns out of criminals' hands," GOA's Pratt said.
The ATF spokesman declined to say if this monitoring program with the FBI was ongoing. The FBI did not respond to a request for comment for this story.
Read more at The Epoch Times
Featured GOA News & Updates