Election Uncertainty Prompts Surge in Gun Sales
Written by Raven Clabough, The New American
Published: 10 November 2020
Fear of a Biden-Harris administration drove Americans to purchase a record number of guns and ammunition in the run-up to the 2020 presidential election. And with the election results still uncertain, gun purchases will continue to soar, the Daily Wire reports.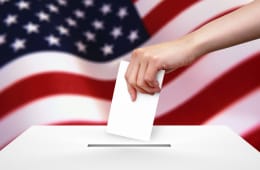 The presidential election is just the latest factor to contribute to a spike in gun sales this year. The COVID-19 pandemic and associated government lockdowns and shortages resulted in an unprecedented growth in firearms ownership in the United States, Ammo.com reports, with two million guns sold in the month of March 2020 alone. An additional three million were sold between March and July.
Data shows the election has also had a significant impact on gun sales. FBI figures reveal more than 3.3 million background checks for gun sales were conducted in October. This marks a 14-percent increase from the prior month, and a 38-percent increase from one year ago.
The Democratic presidential ticket is radically anti-Second Amendment, and when polls falsely indicated Biden was going to handily win the presidency, Americans responded accordingly…
In April 2019, Harris tweeted her opposition to allowing teachers to be armed in the classroom.
"We need to give teachers a raise — not guns," she tweeted, even after admitting to owning a gun herself just days earlier.
Earlier this year, Harris said she would ban states from enacting "stand your ground" laws, claiming they are "racist."
"Senator Harris' record on the Second Amendment should be viewed as a direct threat to every gun owner in the country," said Gun Owners of America Board member Sam Paredes in a statement following Biden's announcement that Harris would be his running mate. "Both her words and actions as an elected politician reveal the extreme objective of her politics."
Read more at The New American
Featured GOA News & Updates