Criminals Easily Bypassing Background Checks
Written by Andrew Shepperson
Published: 19 May 2017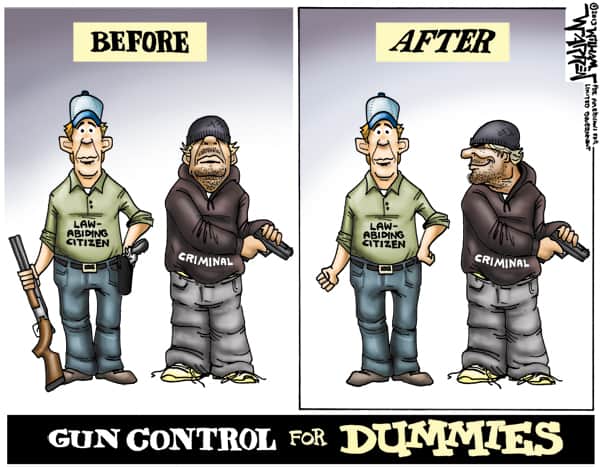 Gun Owners of America has documented how background checks for gun buyers are ineffective, unconstitutional and dangerous.
---
Over a recent three-day period, Guns.com ran several articles showing how criminals are easily arming themselves without submitting NICS checks.
A career criminal and Florida man was sentenced Tuesday to over 17 years in prison for illegally possessing a firearm while being a felon.
According to a Justice Department news release, 31-year-old Jamal Smith, of St. Petersburg, was also ordered to give up a firearm related to the offense. Smith pleaded guilty to the charges in February.
On Sep. 1, 2015, a police officer pulled over Smith's vehicle for a traffic violation. Smith first tried to flee in his vehicle, but then stopped and ran from the officer.
During the chase, Smith circled back around to the vehicle and tried to grab something on the passenger side. Officers captured and arrested Smith, and then found a .45 caliber pistol in the glove box of Smith's vehicle.
Smith was a convicted felon at the time of the offense and was prohibited from possessing a firearm. Because of his previous felony convictions, related to violent offenses and drug charges, Smith received an increased penalty as an armed career criminal under that statute.
---
More than 60 guns were seized Friday from the home of the Ohio man who shot and killed three people at a nursing home.
The Newark Advocate reported sheriff's deputies and investigators from the Ohio Bureau of Criminal investigation took the guns from the home of 43-year-old Thomas Hartless hours after the shooting at a Kirkersville nursing home.
During the attack, Hartless fatally shot Kirkersville Police Chief Steven Eric DiSario with a shotgun. Hartless' former girlfriend, nurse Marlina Medrano, who had filed for protection orders against Hartless for domestic violence, was shot several times with a handgun and shotgun. Cindy Krantz, a nurse's aide, was shot and killed with a shotgun.
Hartless killed himself with a shotgun.
Inventories from the executed search warrants listed 64 firearms found in Hartless' home. Of those 64 guns, there were 21 shotguns, 20 rifles, 18 handguns, three airguns and the rest were not specified.
He was not allowed to possess firearms due to a 2010 felony abduction conviction. As of now, it remains unclear how the guns found at Hartless' home were obtained and to whom they belonged.
---
An Alabama man  was sentenced to 30 months in prison Monday for possessing stolen firearms while being a convicted felon.
According to a news release from the U.S. Attorney's Office of the Southern District of Alabama, 25-year-old George Edward Wilkinson, Jr.,  was also sentenced to three years of supervised release following his 30 month prison sentence.
Wilkinson, previously convicted on a felony burglary charge, pleaded guilty in February to possessing two stolen firearms.
In October 2016, police responded to a report of a stolen car and then stopped Wilkinson, as he tried to flee the scene. While running, the defendant carried a semiautomatic pistol he had stolen and several stolen debit cards.
---
More than 100 guns were stolen from a West Virginia pawn shop Sunday night, causing anxiety for some community members.
WSAZ reported the burglary took place at the Sportsmens Gun & Pawn Shop in the town of Barboursville, West Virginia, late Sunday night.
Authorities have reported the thieves got away with more than 100 firearms, a number that community member Donna Burgess said has her worried.
"Unnerving," said Burgess. "I'm not against guns but I'm for responsibility of guns, somebody is responsible for them."
Featured GOA News & Updates