House Republicans who SHOULD BE Cosigning the Stockman-Broun letter
But still have yet to do so!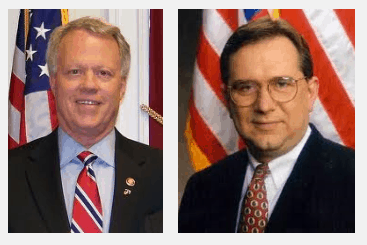 Paul Broun (left) and Steve Stockman (right)
Representatives Steve Stockman (R-TX) and Paul Broun (R-GA) are doing a bang-up job in the House. They are two of the MOST ACTIVE leaders working to defeat gun control in Congress.
And to that end, they have cosigned a letter that calls upon Speaker Boehner to reject all gun control legislation unless it has the support of a majority of Republicans. This is called the "Hastert Rule." And, if Boehner follows it, virtually NO gun control can come to the floor of the House. Virtually none.
As of April 4, there are more than two dozen House Republicans who have cosigned the Stockman-Broun letter — and gun owners should thank them for their support.
See Rep. Steve Daines' statement on the House floor, as he explains his reasons for signing onto the Stockman-Broun letter.
Please note, the following Republicans are congressmen who tell voters they are pro-gun, but they still have NOT cosigned the Stockman-Broun letter to defeat gun control in the House:
Aderholt, Robert        AL-04

Alexander, Rodney     LA-05

Amash, Justin            MI-03

Amodei, Mark            NV-02

Bachus, Spencer         AL-06

Barton, Joe               TX-06

Bilirakis, Gus               FL-12

Black, Diane              TN-06

Blackburn, Marsha      TN-07

Bonner, Jo                AL-01

Brady, Kevin             TX-08

Brooks, Mo               AL-05

Brooks, Susan           IN-05

Buchanan, Vern        FL-16

Bucshon, Larry          IN-08

Burgess, Michael       TX-26

Calvert, Ken             CA-42

Camp, Dave             MI-04

Campbell, John         CA-45

Cantor, Eric            VA-07

Capito, Shelley        WV-02

Cassidy, Bill           LA-06

Chabot, Steve         OH-01

Chaffetz, Jason        UT-03

Coble, Howard         NC-06

Coffman, Mike          CO-06

Cole, Tom               OK-04

Collins, Chris             NY-27

Conaway, Michael     TX-11

Cook, Paul               CA-08

Cotton, Tom           AR-04

Cramer, Kevin            ND

Crawford, Rick         AR-01

Crenshaw, Ander     FL-04

Culberson, John      TX-07

Davis, Rodney L       IL-13

Denham, Jeff          CA-10

Dent, Charlie           PA-15

Diaz-Balart, Mario      FL-25

Duffy, Sean            WI-07

Duncan, John         TN-02

Ellmers, Renee        NC-02

Emerson, Jo Ann     MO-08

Fitzpatrick, Mike       PA-08

Fleischmann, Chuck  TN-03

Flores, Bill                TX-17

Forbes, J. Randy       VA-04

Fortenberry, Jeff       NE-01

Foxx, Virginia            NC-05

Frelinghuysen, Rodney   NJ-11

Garrett, Scott            NJ-05

Gerlach, Jim             PA-06

Gibbs, Bob              OH-07

Gibson, Chris           NY-19

Gingrey, Phil            GA-11

Goodlatte, Bob        VA-06

Gowdy, Trey            SC-04

Granger, Kay            TX-12

Graves, Sam            MO-06

Graves, Tom            GA-14

Griffin, Tim               AR-02

Grimm, Michael          NY-11

Guthrie, Brett           KY-02

Hall, Ralph                TX-04

Hanna, Richard         NY-22

Harper, Gregg          MS-03

Hastings, Doc            WA-04

Heck, Joe                 NV-03

Hensarling, Jeb          TX-05

Herrera Beutler, Jaime    WA-03

Holding, George            NC-13

Hudson, Richard            NC-08

Huelskamp, Tim             KS-01

Huizenga, Bill                MI-02

Hultgren, Randy            IL-14

Hunter, Duncan D.        CA-50

Hurt, Robert                VA-05

Issa, Darrell                  CA-49

Jenkins, Lynn               KS-02

Johnson, Bill                OH-06

Johnson, Sam              TX-03

Joyce, David               OH-14

Kelly, Mike                  PA-03

King, Steve                IA-04

Kinzinger, Adam          IL-16

Kline, John                MN-02

Labrador, Raul            ID-01

Lance, Leonard          NJ-07

Lankford, James        OK-05

Latham, Tom            IA-03

LoBiondo, Frank        NJ-02

Long, Billy               MO-07

Lucas, Frank            OK-03

Luetkemeyer, Blaine   MO-03

Marchant, Kenny       TX-24

Marino, Tom             
PA-10

McCarthy, Kevin        CA-23

McCaul, Michael         TX-10

McClintock, Tom        CA-04

McHenry, Patrick       NC-10

McKeon, Buck          CA-25

McKinley, David        WV-01

McMorris Rodgers, Cathy  WA-05

Meehan, Patrick       PA-07

Mica, John              FL-07

Miller, Candice         MI-10

Miller, Gary             CA-31

Miller, Jeff              FL-01

Mulvaney, Mick        SC-05

Murphy, Tim           PA-18

Neugebauer, Randy  TX-19

Noem, Kristi             SD

Nugent, Rich           FL-11

Nunes, Devin          CA-22

Nunnelee, Alan        MS-01

Olson, Pete            TX-22

Palazzo, Steven       MS-04

Paulsen, Erik           MN-03

Perry, Scott            PA-04

Petri, Thomas         WI-06

Pittenger, Robert    NC-09

Pitts, Joe               PA-16

Poe, Ted               TX-02

Pompeo, Mike         KS-04

Posey, Bill               FL-08

Price, Tom             GA-06

Reed, Tom             NY-23

Reichert, Dave       WA-08

Renacci, Jim           OH-16

Ribble, Reid            WI-08

Rice, Tom              SC-07

Rigell, Scott           VA-02

Roe, Phil                TN-01

Rogers, Hal             KY-05

Rogers, Mike           AL-03

Rogers, Mike           MI-08

Rohrabacher, Dana    CA-48

Rooney, Tom           FL-17

Roskam, Peter          IL-06

Ros-Lehtinen, Ileana   FL-27

Ross, Dennis            FL-15

Royce, Ed               CA-39

Runyan, Jon            NJ-03

Ryan, Paul              WI-01

Scalise, Steve          LA-01

Schock, Aaron          IL-18

Scott, Austin            GA-08

Sensenbrenner, James   WI-05

Sessions, Pete            TX-32

Shimkus, John            IL-15

Shuster, Bill            PA-09

Simpson, Mike            ID-02

Smith, Adrian            NE-03

Smith, Lamar            TX-21

Southerland, Steve    FL-02

Stewart, Chris            UT-02

Stivers, Steve            OH-15

Terry, Lee                 NE-02

Thompson, Glenn        PA-05

Thornberry, Mac          TX-13

Tiberi, Pat                  OH-12

Tipton, Scott              CO-03

Turner, Michael            OH-10

Upton, Fred                MI-06

Valadao, David            CA-21

Wagner, Ann            MO-02

Walberg, Tim            MI-07

Walden, Greg            OR-02

Walorski, Jackie           IN-02

Webster, Daniel           FL-10

Westmoreland, Lynn     GA-03

Whitfield, Ed              KY-01

Williams, Roger            TX-25

Wilson, Joe                SC-02

Wittman, Rob            VA-01

Womack, Steve        AR-03

Woodall, Rob            GA-07

Yoder, Kevin            KS-03

Young, C.W.            FL-13
[readon2 url="http://www.capwiz.com/gunowners/issues/alert/?alertid=62568951″]If your Congressman is on this list – Click here to send them a prewritten email.[/readon2]