House Approves CCR
Written by Andrea Noble, Washington Times
Published: 06 December 2017
Some Gun rights activists celebrate House approval of concealed carry reciprocity bill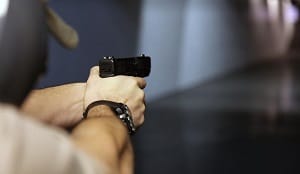 The House delivered a win for gun rights groups Wednesday with the passage of legislation that would force states to recognize concealed carry permits issued by other states and would strengthen the federal gun background check system.
---
Some Gun rights activists celebrate House approval of concealed carry reciprocity bill
The Concealed Carry Reciprocity Act, backed by Republicans, was adopted in a 231-198 vote that mostly followed party lines. The Senate now will take up the measure.
Supporters say the proposal would give law-abiding citizens the ability to protect themselves when they travel, but critics say it eviscerates states' rights to uphold their own firearms standards by allowing gun owners who obtain permits in states with lesser requirements to carry in all 50 states….
Democrats said the bill undermines states that have more restrictive regulations governing the concealed carry of firearms. They were angry that the bill was merged with another proposal, which originally had Democratic support, that was meant to strengthen the federal background check system.
The background check proposal included in the reciprocity bill would punish federal agencies that fail to report their records on domestic violence to the National Instant Criminal Background Check System, which screens gun purchases from licensed firearms dealers. It also would create incentives for states to report more records.
The Fix NICS bill would save lives but shouldn't be tethered to the reciprocity bill, said Rep. Jerrold Nadler, New York Democrat, as he encouraged colleagues to vote against the proposal while it was debated on the House floor. … 
Not all gun rights groups support the combined reciprocity and NICS bill.
Gun Owners of America opposes the background check portion of the bill. It argues that many prospective gun owners are flagged in the background check system for minor infractions such as having unpaid parking tickets.
"Hopefully, the passage of the reciprocity language in the House will serve to kill the background check language in the Senate," said Erich Pratt, the group's executive director. "Passing a stand-alone reciprocity bill will restore concealed carry rights and save lives."
Featured GOA News & Updates