Chicago Arrest Shows Reality Of Criminals Acquiring Guns
Written by Tom Knighton, Bearing Arms
Published: 05 January 2018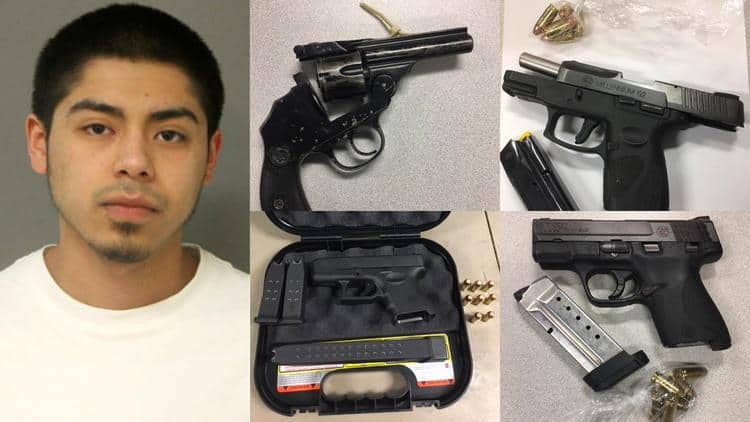 Chicago Arrest Shows Reality Of Criminals Acquiring Guns
We all know that despite the laws on the books, criminals get their hands on guns. This isn't a topic up for debate. It's a cold, hard fact that is beyond dispute.
Where we diverge from anti-gun jihadis is how to address the issue. For them, it invariably means more laws that only impact the law-abiding citizen, while we look for alternatives that don't infringe on individual liberty. After all, we all know that criminals aren't getting the guns legally in the first place, so what good will more laws do?
Click here to see more 2A articles like this one.
A recent arrest in Chicago sums up the reality perfectly.
A Northwest Side man faces more than two dozen felony charges after he surrendered to Chicago police Tuesday, the latest arrest in a drug and gun-running investigation into a secret Facebook group, authorities said.
Sergio Barrera, 23, of the 3700 block of North Octavia Avenue in Belmont Heights, turned himself in at the Jefferson Park District police station about 4:45 p.m. Tuesday, police said.
Barrera was wanted on seven charges of armed violence with a category II weapon, a count of gun-running, eight counts of unlawful use of a weapon by a felon, eight counts of unlawful sale of firearms, five counts of possession of a firearm with a defaced serial number and nine counts of delivery of a controlled substance, police said in a news release. All the charges are felonies.
Barrera was denied bail during a hearing Wednesday afternoon. Judge John Fitzgerald Lyke cited the seriousness of the charges and the "likelihood of conviction."
Barrera's attorney, Carlos Davalos, had asked that his client be released on electronic monitoring, noting he had surrendered to police and was not a flight risk.
Barrera's arrest was part of "Operation Fishnet 4," in which undercover officers gained access to an invitation-only Facebook group and made several purchases. The investigation led to the arrest of 50 people and warrants issued for 18 others, police said.
Why, it's almost like criminals don't follow the law, isn't it?