Burglar Held at Gunpoint
Written by Brandon Curtis, Concealed Nation
Published: 01 August 2018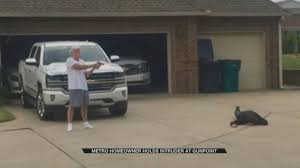 TEAMWORK: Burglar Held At Gunpoint By Homeowner As Passerby Calls Police
This happened in the middle of the day on Friday when Mr. Davenport was working at his home in Yukon, Oklahoma. He heard his door chime but thought nothing of it. He pulled his garage door closed and went back to work.
Then, he heard it again. This time, when he pulled on the door handle, the door pulled back.
Mr. Davenport armed himself, opened the door to his garage, and looked inside. Immediately, he saw the intruder, identified as Jared Bennett, looking back at him.
Click here to see more Self-Defense articles like this one.
 Mr. Davenport directed the intruder to crawl to the front yard and started calling for help. Either he didn't feel comfortable reaching for his cell phone, or (more likely) he didn't happen to be surgically attached to it.
Fortunately, it wasn't long before a jogger came across the situation and was able to help, using her telephone to call 9-1-1 and also (since it's 2018) snap a glamour shot…err, gather photographic evidence of Mr. Davenport and the perp. …
Featured GOA News & Updates