Biedermann Pledges to File Constitutional Carry Legislation
Written by Brandon Waltens, Texas Scorecard
Published: 24 August 2020
"Restore legal Texas firearms owners' rights to carry them openly or concealed without a permit, while maintaining the option of a permit for reciprocity purposes."
For the past several sessions, the bill has been filed and championed by State Rep. Jonathan Stickland (R–Bedford), with another variation being filed by State Rep. James White (R–Hillister). Last year, however, Stickland announced he would not seek re-election.
Biedermann, who has served in the Texas House since 2017, says he'll be taking up the mantle in 2021.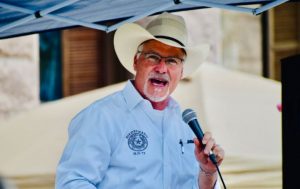 "Our Constitution was written to ensure certain rights of all citizens. Everyone has the right to life and to protect that life from harm. No one should have to pay a fee or get permission from the government before being able to do so legally," said Biedermann. "I look forward to working with my colleagues to restore the rights of Texans."
Despite being a perennial priority of the Republican Party of Texas, the bill has not received much traction in the Texas Legislature in recent sessions. During the most recent legislative session in 2019, the bill was sent by House Speaker Dennis Bonnen to a committee led by Democrat State Rep. Poncho Nevarez (Eagle Pass), where it was not even given a hearing. Bonnen himself even referred to supporters of the legislation as "fringe gun activists."
In the Texas Senate, the legislation was not even filed.
Second Amendment activists have not given up the fight, however, and are instead turning up the pressure as lawmakers prepare to reconvene in the state capitol.
"I am thrilled that Rep. Biedermann has committed to filing constitutional carry legislation," said Rachel Malone, the Texas director for Gun Owners of America. "This is great news for Texas because constitutional carry promotes safety and equality while upholding our God-given, constitutionally guaranteed right to keep and bear arms."
Malone also noted that many other states already have some form of permitless carry, leaving Texas lagging behind.
"With over 30 states allowing those who legally possess handguns to carry them openly without a permit, and many states also allowing concealed carry without a permit, Texas can no longer stand idly by. Now is the time for the Lone Star State to take the lead."…
Read more at Texas Scorecard
Featured GOA News & Updates